Inventory of the fish fauna from Laranjinha River, Paranapanema River system, Brazil
Keywords:
Checklist, fish diversity, freshwater, upper Paraná River
Abstract
Abstract: This work is the most comprehensive survey of the Laranjinha River´s fishes, a tributary of the Cinzas River, Paranapanema River basin. Throughout its course, there is only a low-height dam, including a transposition system located 98 km from its mouth. The sampling was carried out in nine locations, from the source to the mouth, with six field incursions in each location, using different fishing gear. A total of 11,924 fish were collected, distributed in seven orders, 27 families, and 100 species. The most representative order in the number of species was Siluriformes, followed by Characiformes. As for the families, Loricariidae comprised 21% and Characidae 14% of species richness. Phalloceros harpagos was the species with the highest absolute abundance, representing 11.3% of the total, followed by Hypostomus ancistroides with 9.8%. However, considering the average abundance and frequency of occurrence, Hypostomus ancistroides was the most abundant species, followed by Hypostomus cf. paulinus, Psalidodon aff. paranae and Phalloceros harpagos. Among the collected species, the Apteronotus acidops, Brycon orbygnianus, Brycon nattereri, Crenicichla jupiaensis, and Rhinelepis aspera were classified as endangered on the most recent IUCN Red List. Also, from the total sampled fish, 9.8% are considered non-native species. Among the native species recorded, 10 species are large migratory species, which indicates that the Laranjinha River is a route for spawning and maintenance of species diversity in the middle Paranapanema River. Therefore, the Laranjinha River is a heritage of fish diversity and deserves special attention in its preservation.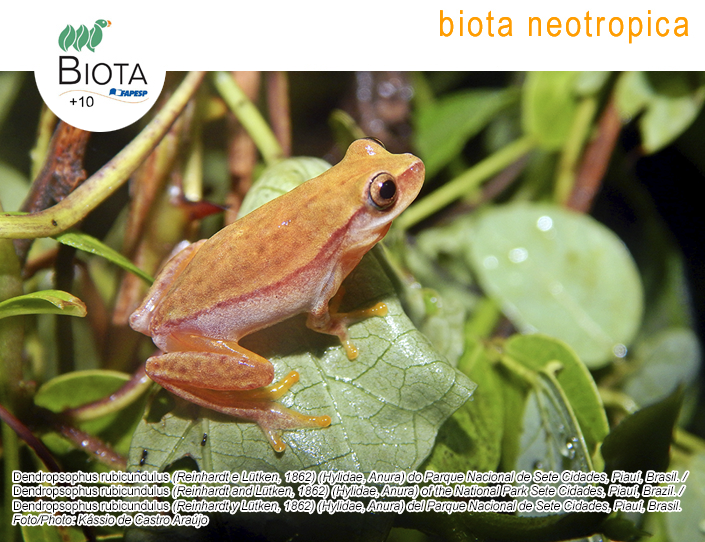 How to Cite
Galindo, B. A., Ota, R. R., Garcia, T. D., Nascimento, R. H. C., Ohara, W. M., Zanatta, A. S., Ferreira, D. G., Apolinário-Silva, C., Frantine-Silva, W., Carvalho, S. de, Costa, A. D. A., Sofia, S. H., & Shibatta, O. A. (2020). Inventory of the fish fauna from Laranjinha River, Paranapanema River system, Brazil. Biota Neotropica, 20(4). Retrieved from https://www.biotaneotropica.org.br/BN/article/view/1768