A new inventory for fishes of headwater streams from the rio das Cinzas and rio Itararé basins, rio Paranapanema system, Paraná, Brazil
Keywords:
Altitudinal gradient, Devonian Escarpment, faunal exchange, upper rio Paraná
Abstract
Abstract: The rio das Cinzas and rio Itararé basins are important tributaries of the rio Paranapanema, a major left-bank tributary of the upper rio Paraná basin. The upper reaches of both drainages intersect the northern portion of the APA Escarpa Devoniana (Devonian Escarpment Environment Protection Area, EPA), an area considered crucial for the preservation of biodiversity. This study aimed to provide an ichthyofaunistic inventory for headwater streams of the rio das Cinzas and rio Itararé basins, both within and off of the borders of the EPA, increasing the knowledge about the species already known from streams in the rio Paranapanema system. We found 32 fish species, representing five orders and 12 families. Siluriformes was the richest order followed by Characiformes. Ten species presented high abundance of sampled individuals, contributing with 85.0% of all specimens. Most species were classified as occasional (captured in less than 25% of the samples) and only two species were classified as constant (captured in more than 50% of samples), which may reflect the altitudinal gradient. We did not record any introduced species in the sampled streams, reinforcing the need of, at least, maintaining the original area of the EPA. We expanded the geographic distribution of Astyanax bifasciatus to the upper rio Paraná system, confirming the cases of faunal exchange among several drainage systems in the limits of the Ponta Grossa Arch. Finally, we identified three putatively undescribed species that show a large biodiversity knowledge shortfall for the region studied.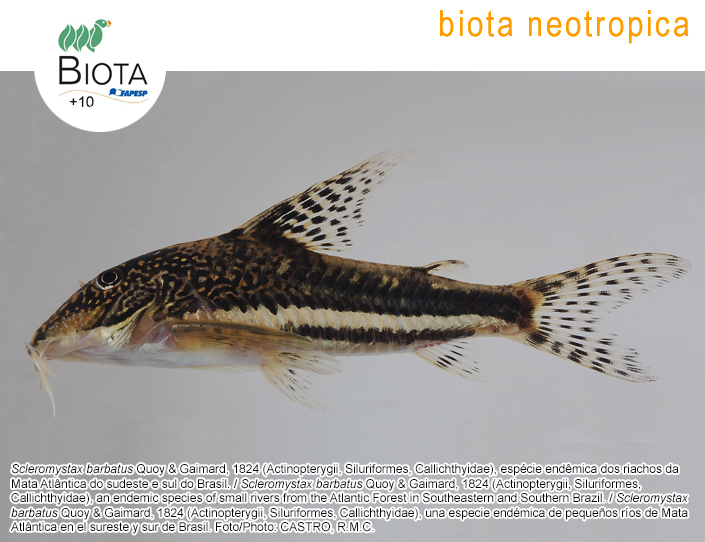 How to Cite
Frota, A., Ota, R. R., Deprá, G. de C., Ganassin, M. J. M., & Graça, W. J. da. (2020). A new inventory for fishes of headwater streams from the rio das Cinzas and rio Itararé basins, rio Paranapanema system, Paraná, Brazil. Biota Neotropica, 20(1). Retrieved from //www.biotaneotropica.org.br/BN/article/view/1695