Anuranfauna from northwestern region of the State of São Paulo: species list and taxonomic key for adults
Keywords:
identification key, amphibians, biodiversity inventory, habitat use, reproductive modes, seasonal occurrence
Abstract
The correct identification of species is a common impediment for studies of conservation, management and environmental licensing. Currently, 37 species from five families of anuran amphibians are recorded in the region that includes the Turvo-Grande, São José dos Dourados and parts of the Low Pardo, Low Tietê and Tietê-Batalha Hydric Resources Management Unit (UGRHIs). Despite of being studied since de mid-1960's, none identification key that included all the species recognized was available. Although developed for a regional anuranfauna, this key has wide application because the species found in the studied region are associated to open areas and have wide geographical distribution. This study aims to fill this gap presenting an illustrated list about species' biology, and a dichotomous key that comprises 37 anuran species.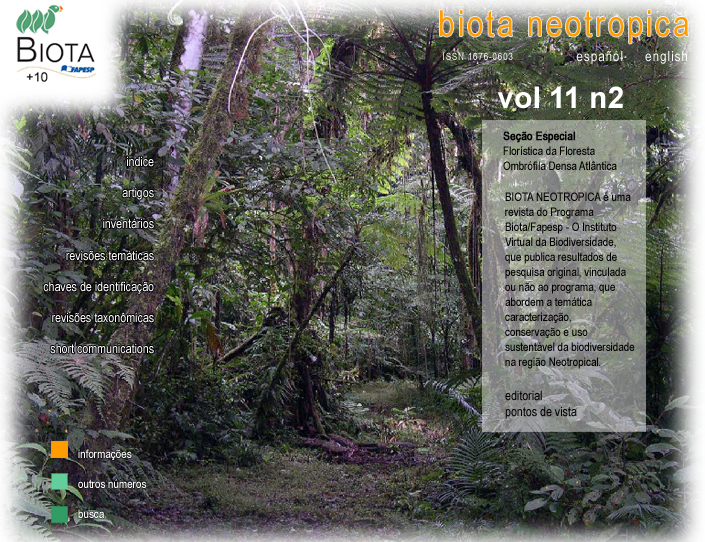 How to Cite
Provete, D. B., Garey, M. V., Silva, F. R. da, & Rossa-Feres, D. de C. (2011). Anuranfauna from northwestern region of the State of São Paulo: species list and taxonomic key for adults. Biota Neotropica, 11(2). Retrieved from //www.biotaneotropica.org.br/BN/article/view/781
Section
Identification Keys