Anuran fauna of the Semi-deciduous Forest of the Estação Ecológica dos Caetetus, Southeastern Brazil
Keywords:
anuran amphibians, natural history, inventory, Semi-deciduous Forest, Sao Paulo State
Abstract
Semi-deciduous Forest is one of the most threatened and deforested vegetation types of Brazil due to its land conversion to agriculture in the beginning of the 20th Century; its distribution is now reduced to less than 8% of its original extent. Studies about anuran taxocenosis associated to these forests are scarce, even when we consider the remaining areas of pristine forest. We present herein results from an amphibian survey at the Estação Ecológica dos Caetetus, a conservation unit with a singular preserved Semi-deciduous Forest from the Middle-West region of the State of São Paulo, located inside the priority areas for conservation on São Paulo State. We provided here data on species richness, composition, geographical distribution, and natural history notes for each taxa found in the area. We recorded 34 anuran species belonging to nine families, of which Hylidae and Leptodactylidae are the two most speciose families, with 14 and eight species respectively. The high species richness in the area, mainly in the family Hylidae, can be explained by both the high environmental heterogeneity of this remnant and its geographic location between Cerrado savannas and Atlantic rain forest areas. Its high species richness when compared with other localities of the same vegetation type, as well as the presence of forest dependent species in the families Centrolenidae, Hylodidae and Craugastoridae, indicate both the good conservation status and the regional importance of this forest remnant.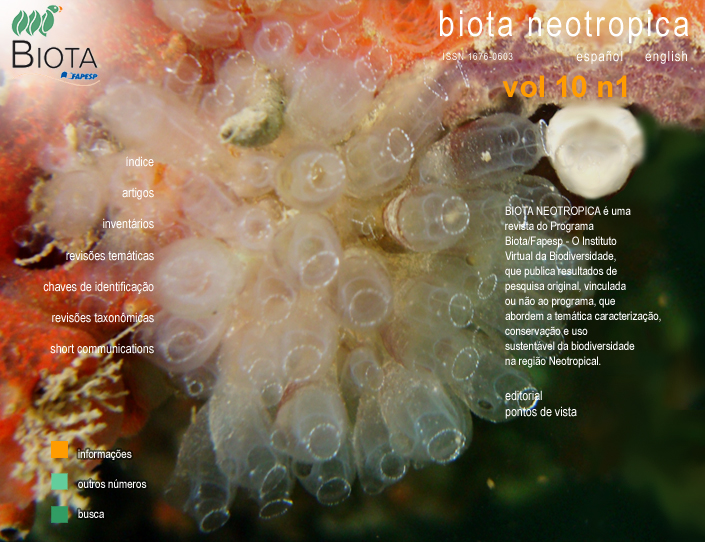 How to Cite
Brassaloti, R. A., Rossa-Feres, D. de C., & Bertoluci, J. (2010). Anuran fauna of the Semi-deciduous Forest of the Estação Ecológica dos Caetetus, Southeastern Brazil. Biota Neotropica, 10(1). Retrieved from //www.biotaneotropica.org.br/BN/article/view/620