Temporal variation in calling site use in a community of anurans in Botucatu, São Paulo State, Brazil
Keywords:
community ecology, resource partitioning, multidimensional niche, anurans, southeastern Brazil
Abstract
A study on temporal variation in calling site use in a community of anurans was carried out in a permanent pond, between October of 1996 and February of 1998, in southeastern Brazil. Fourteen species of anurans were registered, belonging to the families: Hylidae, Leptodactylidae, Leiuperidae, and Bufonidae. Most species in the community were accidental (n = 6) and the majority vocalized in the hot and humid months (October to February). A sucessional pattern in time distribution and a significant statistical correlation between the richness and climatic variables was observed. However, significant statistical correlation between monthly abundance and climatic variables was found only for four species. The analysis of niche breadth, given by the Index of Levins, indicated that the majority of the species was specialist in the use of the two considered resources. The Coefficient of Similarity of Morisita-Horn did not point overlap in time occurrence, but a high overlap in calling site use was detected. Multidimensional overlap showed intermediate values between studied dimensions.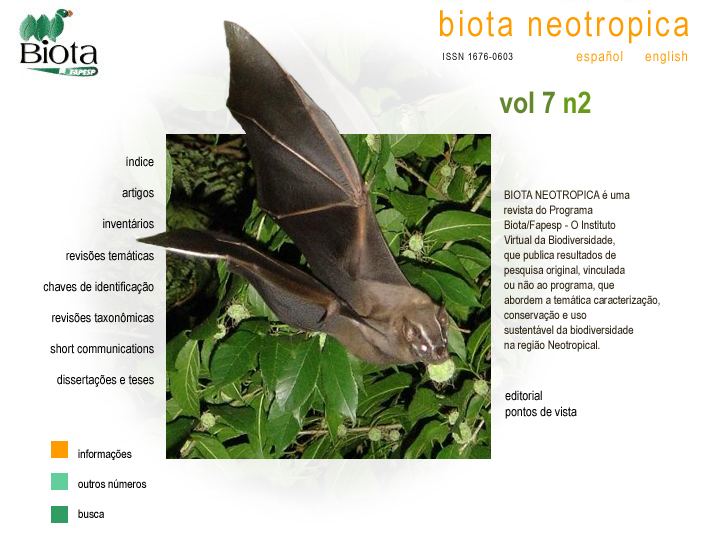 How to Cite
Melo, G. V. de, Rossa-Feres, D. de C., & Jim, J. (2007). Temporal variation in calling site use in a community of anurans in Botucatu, São Paulo State, Brazil. Biota Neotropica, 7(2). Retrieved from //www.biotaneotropica.org.br/BN/article/view/287