The use of forest fragments by open-area anurans (Amphibia) in northwestern São Paulo State, Brazil
Keywords:
habitat, landscape, species richness, semideciduous forest, forest remnants
Abstract
Landscape arrangement plays a key role in community structure and composition. Our study was based on the hypothesis that forest fragments work as shelter areas for open-area anuran species. Four forest fragments were studied in the municipality of Icém, northwestern São Paulo State; the fragments were 1 to 4 km apart from each other. The anurans were sampled in the fragments by pitfalls, artificial shelters, and active search. Twelve species were registered (48% of the species known for the region); three of these species (Eupemphix nattereri, Leptodactylus podicipinus, and Physalaemus cuvieri) had high abundance (n > 50 individuals). In the pitfalls, 228 individuals belonging to 10 anuran species were captured. The high richness and abundance of specimens captured mean that forest fragments are important components for the anuran communities. Forest fragments in the Icém region can be used by anurans in three non-exclusive ways: i) as shelter areas during the dry season (five species registered); ii) as day shelters during the anuran reproductive season (six species registered in artificial shelters during the day, throughout the rainy season); and iii) as foraging areas (one specimen of Leptodactylus podicipinus found feeding on Blattaria in the fragment FM2). Therefore, the preservation of anuran populations of open habitats depends, to the same extent, on terrestrial habitats, such as forest fragments, and on the ponds where they reproduce.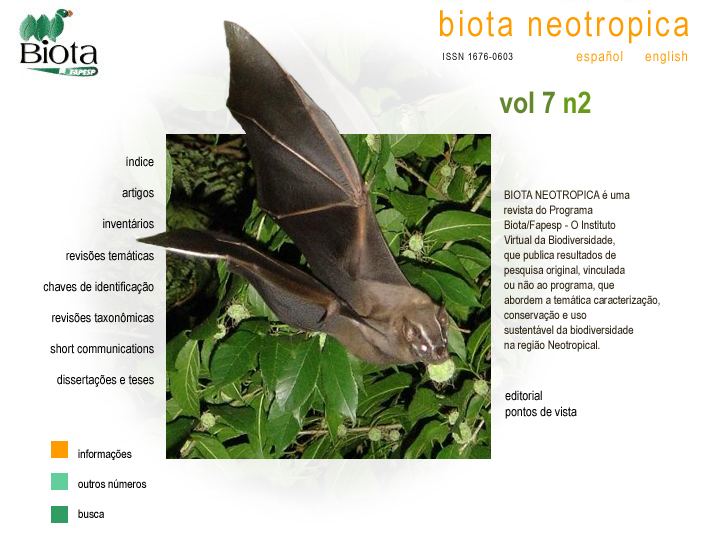 How to Cite
Silva, F. R. da, & Rossa-Feres, D. de C. (2007). The use of forest fragments by open-area anurans (Amphibia) in northwestern São Paulo State, Brazil. Biota Neotropica, 7(2). Retrieved from //www.biotaneotropica.org.br/BN/article/view/292