Amphibians and reptiles of the Parque Estadual Turístico do Alto Ribeira (PETAR), SP: an Atlantic Forest remnant of Southeastern Brazil
Keywords:
herpetofauna, conservation, Atlantic Forest, Apiaí, Iporanga, Vale do Ribeira
Abstract
The herpetofauna of São Paulo State, Brazil, can be characterized as the most well-known in the country. However, despite the large number of studies in this area, there are still many sampling gaps within biomes such as the Atlantic Forest that are considered global conservation priorities due to the high rate of endemism and human disturbance. As a result of political and historical pressure, this biome has been reduced to less than 12% of its original extent and, despite its importance for global biodiversity conservation, only a small percentage of its original vegetation cover (1%) has some form of legal protection. This is the case of the Parque Estadual Turístico do Alto Ribeira (PETAR) which, together with the Parque Estadual de Intervales, Parque Estadual Carlos Botelho and Mosaico de Unidades de Conservação de Jacupiranga, forms of an ombrophilous forest continuum of 360 thousand ha in the south of São Paulo State. This study presents a list of amphibians and reptiles from the PETAR, with information on the local distribution and habitat use of the species. The survey was conducted from October to December 2009, completing a total of 15 sampling days using four complementary methods of active sampling: visual encounters, auditory encounters, searches by car and incidental encounters. We recorded a total of 91 species belonging to 53 genera and 24 families. This high diversity can be attributed to the existence of a wide variety of habitats and microhabitats in this region, such as the various aquatic sites used by many species of anuran amphibians. Moreover, the PETAR features a large altitudinal gradient (80 - 1,160 m elevation) that gives a large climatic, geological and hydrological heterogeneity to the area. This inventory is an important contribution to the expansion of knowledge about these assemblages in the Atlantic Forest to the south of Serra de Paranapiacaba mountain range, and provides support for the conservation of these groups in São Paulo State.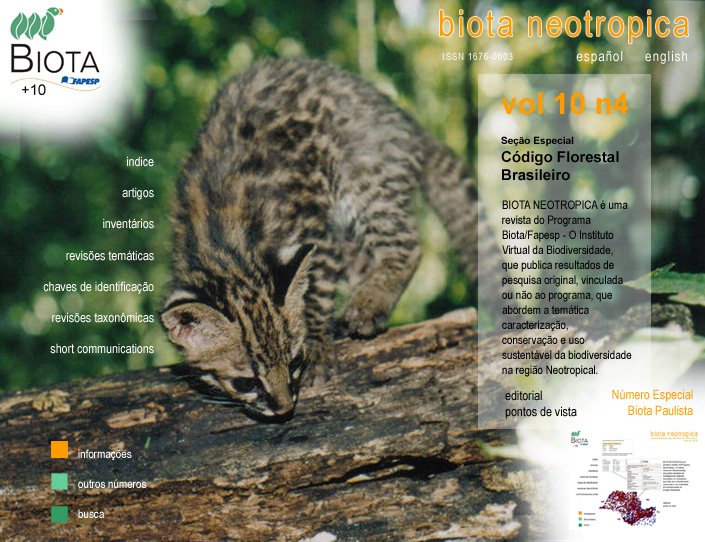 How to Cite
Araujo, C. de O., Condez, T. H., Bovo, R. P., Centeno, F. da C., & Luiz, A. M. (2010). Amphibians and reptiles of the Parque Estadual Turístico do Alto Ribeira (PETAR), SP: an Atlantic Forest remnant of Southeastern Brazil. Biota Neotropica, 10(4). Retrieved from https://www.biotaneotropica.org.br/BN/article/view/740