Anuran amphibians of Parque Estadual das Furnas do Bom Jesus, Southeastern Brazil, and its relationships with other assemblages in Brazil
Keywords:
Amphibia, diversity, Cerrado, semideciduous forests, Pedregulho, São Paulo
Abstract
We present the 24 anuran species occuring in Parque Estadual das Furnas do Bom Jesus (PEFBJ), municipality of Pedregulho, São Paulo state, southeastern Brazil. Barycholos ternetzi, Rhinella rubescens, Scinax canastrensis, and Phyllomedusa ayeaye correspond to new records to the São Paulo state species list, the latter species considered as threatened in IBAMA and IUCN lists. In order to characterize the PEFBJ anuran assemblage we compare its species composition with 66 localities from different biomes in Brazil. The 67 assemblages were ordinated and grouped by Principal Coordinates Analysis (ACOP) and Cluster Analysis. The multivariate analysis allowed the identification of four groups: one from Amazonian forest assemblages; two from Atlantic forest assemblages, being one consisting of dense Atlantic rain forest of Bahia, Espírito Santo states and its transitions with seasonal semideciduous forests (Minas Gerais state), and the other one consisting of localities of dense Atlantic rain forest of Rio de Janeiro, São Paulo, Paraná states and its transitions with araucaria rain forest (Atlantic rain forest with Araucaria angustifolia), seasonal semideciduous forests, and Pampas Biome assemblages; assemblages from more open physiognomies, as Caatinga (semiarid steppe of Northeast Brazil), Cerrado (Brazilian savanna), Pantanal (Brazilian wetlands), and the Atlantic forest (seasonal semideciduous forests) were included in the fourth group. The faunistic groups obtained indicate that species composition of the 67 localities are strongly related to the vegetation types where they occur. The great diversity observed among the physiognomic vegetation types could be related to the topographic and climatic variations found in the different biomes considered in our analysis (Amazon, Caatinga, Cerrado, Atlantic forest, Pampas and Pantanal). The anuran assemblage of PEFBJ was grouped among the biomes with open phytophysiognomies (fourth group), showing great similarity to the faunas of Cerrado and semideciduous forests in the Atlantic forest Biome of São Paulo state.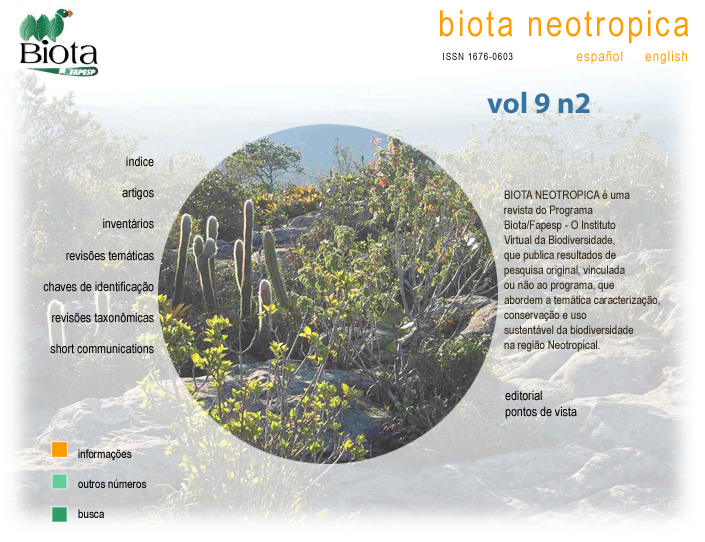 How to Cite
Araujo, C. de O., Condez, T. H., & Sawaya, R. J. (2009). Anuran amphibians of Parque Estadual das Furnas do Bom Jesus, Southeastern Brazil, and its relationships with other assemblages in Brazil. Biota Neotropica, 9(2). Retrieved from //www.biotaneotropica.org.br/BN/article/view/520