Composition, species richness and abundance of anurans in a Cerrado and Atlantic Forest remnant of the São Paulo state, Brazil
Keywords:
amphibians, Anura, diversity, inventory, Estação Ecológica de Angatuba
Abstract
The anurans of São Paulo state are the best known in the country. However, there are still considerable sampling gaps in the state, especially within natural vegetation remnants of the hydrographic basins of the Paranapanema river. The purpose of this study was to obtain information on species composition, species richness and abundance of anurans recorded at Estação Ecológica de Angatuba, a remnant of Cerrado and Atlantic Forest in the hydrographic basin of the Upper Paranapanema river. The survey was conducted in two phases: in March and November 2007, and between October 2008 and March 2009, totaling 38 sampling days. Surveys were conducted using pitfall traps, incidental encounters and acoustic and visual searches. We recorded 31 anuran species, belonging to 16 genera and eight families (Bufonidae, Centrolenidae, Craugastoridae, Cycloramphidae, Hylidae, Leiuperidae, Leptodactylidae and Microhylidae). Of this total, 15 species were new records to the Angatuba and Guareí municipalities. This research is an important contribution for expanding the knowledge of the anuran diversity in the Cerrado and Atlantic Forest, two priority global hotspots for biodiversity conservation in Brazil.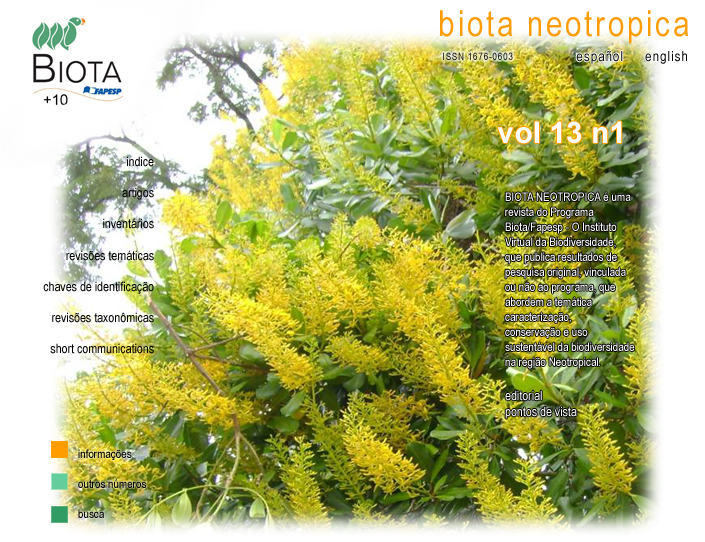 How to Cite
Araujo, C. de O., & Almeida-Santos, S. M. de. (2013). Composition, species richness and abundance of anurans in a Cerrado and Atlantic Forest remnant of the São Paulo state, Brazil. Biota Neotropica, 13(1). Retrieved from https://www.biotaneotropica.org.br/BN/article/view/1073