Herpetofauna in a cerrado remnant in the state of São Paulo, Southeastern Brazil
Keywords:
amphibians, reptiles, conservation, Cerrado, Assis
Abstract
Despite its great extension and biodiversity, there are still sampling gaps in the Cerrado. This region has shown drastic changes due to the conversion of natural areas into pastures and plantations. In the last four decades, around 88.5% of the Cerrado areas in the state of São Paulo were supressed. Only 0.8% of Cerrado original cover in the state (14%) remain as pristine habitats. We present the species composition, abundance and use of habitat of amphibians and reptiles recorded at Estação Ecológica de Assis, a remnant of Cerrado in the state of São Paulo. The survey was conducted between September 2007 and March 2008 during seven monthly field trips of five days each, totaling 35 sampling days. Surveys were conducted using pitfall traps (AIQ), incidental encounters (EO), auditory encounters (PA), and visual encounters (PV). In addition to the field samples, we included records of species occurring on the municipality of Assis, obtained at the main scientific collections of amphibians and reptiles in the state of São Paulo. We recorded 27 amphibian species, belonging to 13 genera and six families (Bufonidae, Cycloramphidae, Hylidae, Leiuperidae, Leptodactylidae, and Microhylidae), and 53 reptile species belonging to 38 genera and 13 families (Amphisbaenidae, Anguidae, Gekkonidae, Gymnophthalmidae, Polychrotidae, Scincidae, Teiidae, Anomalepididae, Boidae, Colubridae, Dipsadidae, Elapidae, and Viperidae). This survey is an important contribution to the knowledge about these assemblages in the highly threatened Cerrado of the state of São Paulo. Remnants such as the Estação Ecológica de Assis are extremely important for the conservation of amphibians and reptiles in the state and in the Cerrado region.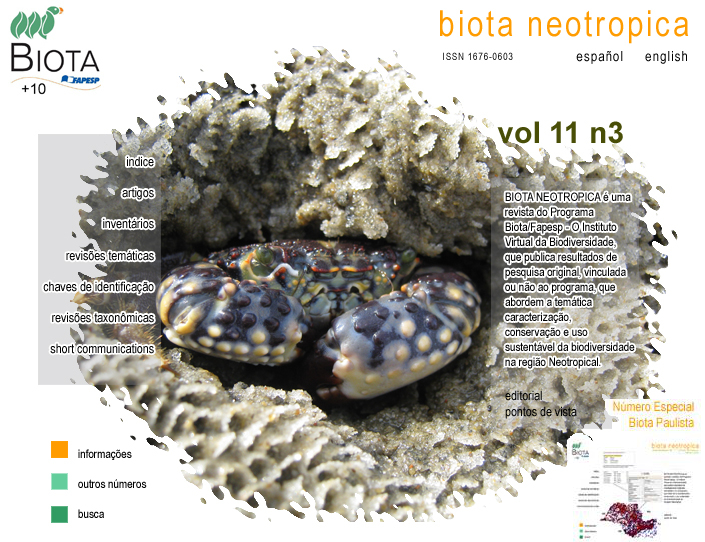 How to Cite
Araujo, C. de O., & Almeida-Santos, S. M. de. (2011). Herpetofauna in a cerrado remnant in the state of São Paulo, Southeastern Brazil. Biota Neotropica, 11(3). Retrieved from https://www.biotaneotropica.org.br/BN/article/view/868