Snake assemblage of Ilha de São Sebastião, southeastern Brazil: comparison to mainland
Keywords:
snakes, island, diversity, richness, dominance, Atlantic Forest
Abstract
We provide a checklist of snake species from Ilha de São Sebastião (Ilhabela), the largest coastal island in Brazil located on the northern coast of São Paulo state. We also compare snake diversity (including richness and relative abundance of species) of Ilhabela and the nearest mainland municipality, São Sebastião. We obtained the data from the herpetological collections of the Instituto Butantan and Museu de Zoologia of Universidade de São Paulo, including records from 1939 to 2005. We recorded twenty snake species from Ilhabela (N = 376 individuals), and the dominant species was the viperid Bothrops jararaca with 55% of dominance. In São Sebastião we recorded 27 species (N = 625), and Bothrops jararaca was also the dominant species, but with 25% of dominance. Some common species seem to be more abundant in the mainland. Even considering the different number of individuals sampled between localities, rarefactions curves and richness estimations confirm that São Sebastião should present a higher number of species. The Chao 1 estimates 20 species (19 to 21 spp.) for Ilhabela, and 32 species (27 to 37 spp.) for São Sebastião. One of the most distinctive aspects of the snake fauna of Ilhabela is the occurrence of four species of the genus Dipsas (D. albifrons, D. alternans, D. neivai,and D. petersi). Throughout most of the coastal Atlantic Forest of São Paulo state only D. petersi is recorded. This is the first assessment of diversity of snakes in Ilha de São Sebastião and the municipality of São Sebastião. Thus, it is a contribution to the knowledge and conservation of the herpetofauna of the region and of the Atlantic Forest of southeastern Brazil.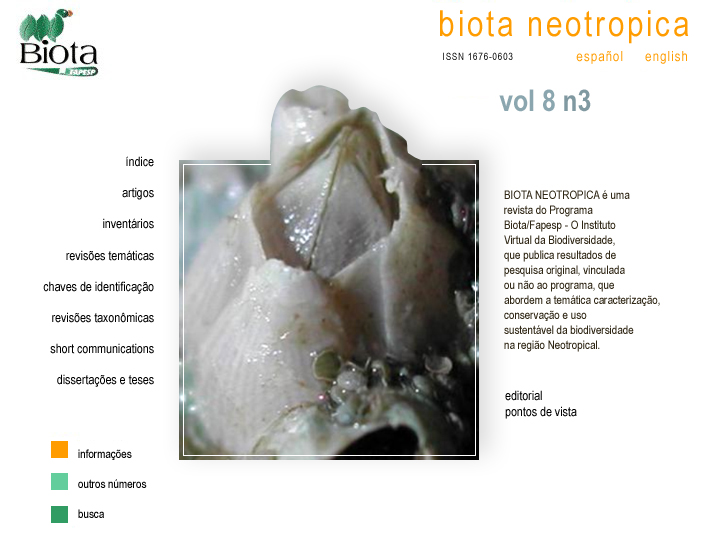 How to Cite
Centeno, F. da C., Sawaya, R. J., & Marques, O. A. V. (2008). Snake assemblage of Ilha de São Sebastião, southeastern Brazil: comparison to mainland. Biota Neotropica, 8(3). Retrieved from //www.biotaneotropica.org.br/BN/article/view/417