Taxonomic composition and distribution of anurans in the Upper and Middle Paranapanema, São Paulo state, Brazil
Keywords:
amphibians, Atlantic Forest, Cerrado, conservation, inventory, Paranapanema River watersheds
Abstract
The anurans of São Paulo state are the best known in Brazil. However, there are still considerable gaps in the sampling of anurans in the state, especially within the natural vegetation remnants of the Paranapanema River watersheds. The purpose of this study was to collect information on the taxonomic composition, distribution, and conservation status of anurans in the Upper and Middle Paranapanema, thus helping to identify the municipalities poorly known for this taxon in these regions. Of the 91 municipalities analyzed, only 15 (16%) could be classified as relatively well sampled, having been studied for long periods by various researchers. We recorded 124 anuran species belonging to 36 genera and 12 families (Brachycephalidae, Bufonidae, Centrolenidae, Ceratophryidae, Craugastoridae, Cycloramphidae, Odontophrynidae, Hemiphractidae, Hylidae, Hylodidae, Leptodactylidae, and Microhylidae). The species richness of the anurans found in the Upper Paranapanema was far greater than that in the Middle Paranapanema. The species richness gradually decreases from the southern and southeastern portion of the Upper Paranapanema, where ombrophilous forest predominate, towards the Middle Paranapanema, where Cerrado formations and seasonal semideciduous forest are dominant. The findings of this study are important to expanding our knowledge on anuran diversity in the Cerrado and Atlantic Forest, which are two priority global hotspots for biodiversity conservation in Brazil.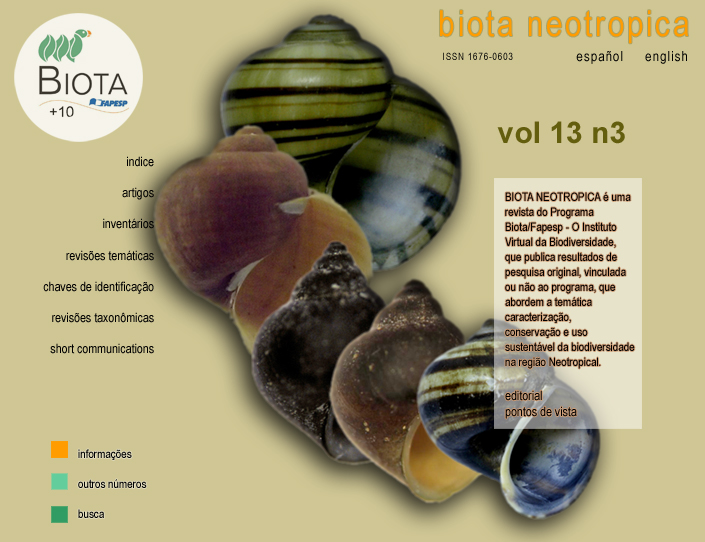 How to Cite
Araujo, C. de O., Matsukuma, C. K., & Santos, S. M. de A. (2013). Taxonomic composition and distribution of anurans in the Upper and Middle Paranapanema, São Paulo state, Brazil. Biota Neotropica, 13(3). Retrieved from https://www.biotaneotropica.org.br/BN/article/view/1284