Anurans of the Estação Ecológica de Santa Bárbara, a remnant of open Cerrado formations in the state of São Paulo
Keywords:
amphibians, Anura, conservation, inventory, Águas de Santa Bárbara
Abstract
Although São Paulo is the state with the most knowledge about anurans from Brazil, it still has important knowledge gaps about this group especially in the remnants of the Cerrado Biome. Only 0.5% of this biome is protected by conservation units in the state and remaining fragments suffer threats that include isolation, risk of fire and invasion by exotic plant species. The aim of this study was to obtain information on anurans species recorded at Estação Ecológica de Santa Bárbara, one of the few remnants in Middle Paranapanema river basin that has a predominance of open Cerrado formations. The inventory was conducted monthly from October/2008 to March/2009, totaling 30 sampling days. Surveys were conducted using pitfall traps with drift fences, incidental encounters and acoustic and visual searches. We recorded 33 anuran species, belonging to 14 genera and six families (Bufonidae, Cycloramphidae, Hylidae, Leiuperidae, Leptodactylidae e Microhylidae). Although species richness was not different between open and forest vegetation types, there was a greater abundance of anurans in the open formations, reflecting the largest association of individuals to water bodies present in open phytophysiognomies during the reproductive period. This research is an important contribution to expanding the knowledge about anurans species in the Cerrado, one of the priority global hotspots for biodiversity conservation.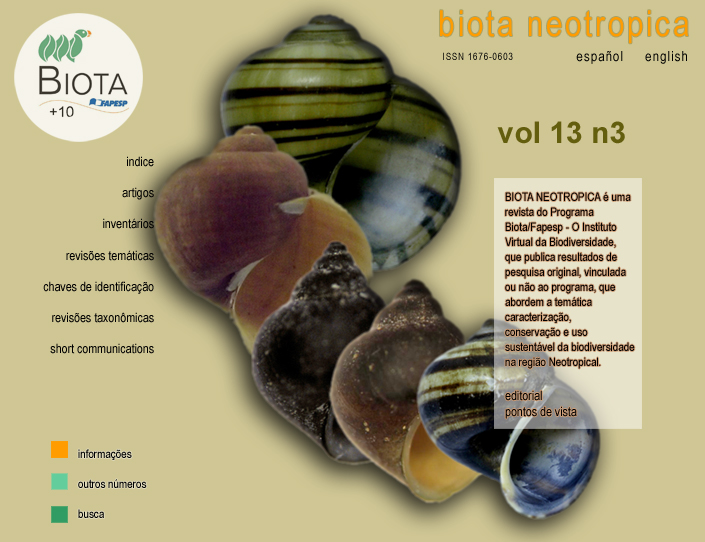 How to Cite
Araujo, C. de O., Corrêa, D. T., & Santos, S. M. de A. (2013). Anurans of the Estação Ecológica de Santa Bárbara, a remnant of open Cerrado formations in the state of São Paulo. Biota Neotropica, 13(3). Retrieved from https://www.biotaneotropica.org.br/BN/article/view/1264