Calling period and environments of anuran fauna in Municipality of Espigão do Oeste, Rondônia, Southeastern of Amazonian: Brazil (Amphibia: Anura)
Keywords:
amphibians, anurans, habitat use, breeding, calling activity
Abstract
A survey of the anuran fauna was carried out in the Jaburi farm (11° 35'-11° 38' S and 60° 41-60° 45' W), Municipality of Espigão do Oeste, Rondônia State, Brazil, analysing spatial distribution and calling activity period of the species in primary forest and pasture areas. Field work at Jaburi farm was carried out from February 2001 until March 2002. For sampling of the species, different environments were investigated extensively throughout searching frogs in breeding sites and catching by pitfalls traps. A total of 47 species out of ten families were recorded: Aromobatidae (1), Brachycephalidae (2), Bufonidae (4), Centrolenidae (1), Cycloramphidae (1), Dendrobatidae (1), Hylidae (23), Leiuperidae (1), Leptodactylidae (8) and Microhylidae (5). New registers for Rondônia State were the following species: Dendropsophus acreanus, Trachycephalus resinifictrix, Chiasmocleis bassleri e C. ventrimaculata. The majority of species called during rainy period (October to March), and there was a significant correlation between calling activity and rainfall. More anuran species were found within the forest than on pasture areas, showing that deforestment may decrease number of species.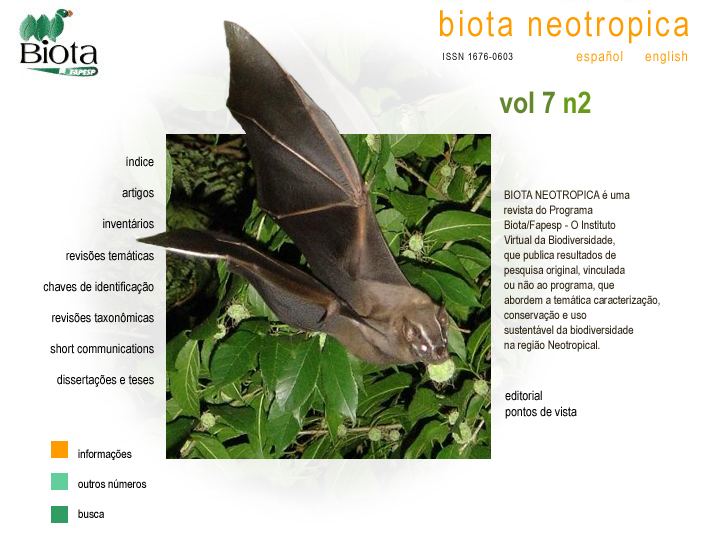 How to Cite
Bernarde, P. S. (2007). Calling period and environments of anuran fauna in Municipality of Espigão do Oeste, Rondônia, Southeastern of Amazonian: Brazil (Amphibia: Anura). Biota Neotropica, 7(2). Retrieved from //www.biotaneotropica.org.br/BN/article/view/286