Herpetofauna of the forest of Lower Moa River, Cruzeiro do Sul, Acre - Brazil
Keywords:
Amazon, Amphibia, Reptilia, Anura, Squamata
Abstract
We report the results of a herpetofauna survey carried out in the forest of Lower Moa River, Cruzeiro do Sul, state of Acre, northern Brazil. The study was carried out from February 2008 to September 2009; the species were sampled through pitfall traps with drift fences (AIQ), time-constrained search (PLT), active search (BA), sampling at breeding sites (ASR), and occasional encounters (EO). The herpetofauna was sampled in an area of approximately 256 ha located within private properties, including an open area of pastures adjacent to a forest. In the forest area, sampling was carried out in two trails with different physiognomies: terra firme (upland forest) and várzea (flooded forest). We recorded 103 species: 50 anurans and 53 reptiles (35 snakes, 17 lizards and one crocodilian). The collector's curve reached the asymptote for anurans, but not for lizards, snakes or the whole herpetofauna (all groups together). Most species of anurans and reptiles were recorded in forest areas, mainly terra firme. Most amphibians were recorded through PLT and ASR, whereas reptiles were recorded through EO and PLT. A higher number of snakes were expected for the locality than the richness actually recorded (35 species). We emphasize the importance of preserving private forests that encompass both kinds of habitat (terra firme and várzea), since they differ in herpetofauna composition due to differences in forest structure. The preservation of forests is crucial to the maintenance of amphibian and reptile biodiversity in the Amazon, which loses species due to the conversion of forests into pastures and logging.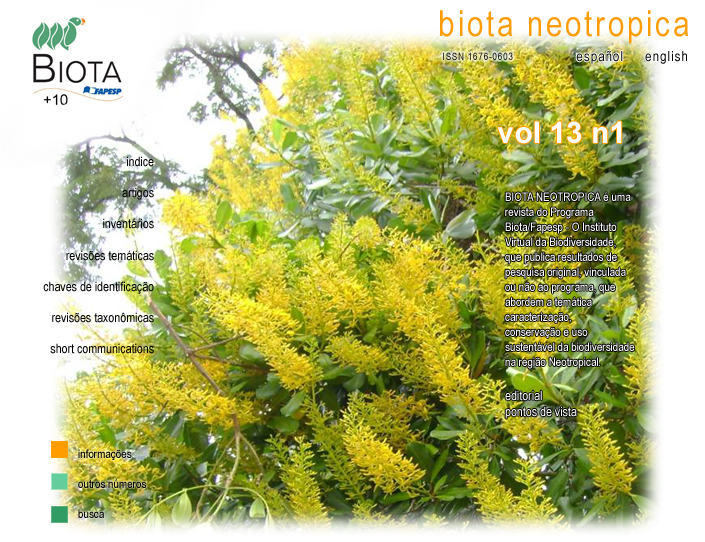 How to Cite
Bernarde, P. S., Albuquerque, S. de, Miranda, D. B. de, & Turci, L. C. B. (2013). Herpetofauna of the forest of Lower Moa River, Cruzeiro do Sul, Acre - Brazil. Biota Neotropica, 13(1). Retrieved from //www.biotaneotropica.org.br/BN/article/view/1070