Herpetofauna of Igarapé Esperança area in the Reserva Extrativista Riozinho da Liberdade, Acre – Brazil
Keywords:
Amazon, Amphibia, Reptilia, Anura, Squamata
Abstract
The upper Juruá region is located in Acre state (western Brazilian Amazonia) and it is known for having a high diversity and moreover is considered a priority area for survey and conservation of herpetofauna. This study was carried out from August 2006 to June 2008 and presents a list of amphibians and reptiles from Igarapé Esperança area in the Reserva Extrativista Riozinho da Liberdade, Acre. Four sampling methods were used to survey herpetofauna: time constrained visual search, pitfall traps with drift fences, call records and accidental sightings. One hundred and sixty-two species were recorded, including 83 amphibians (80 frogs, two caecilians and one salamander) and 79 reptiles (29 lizards, 42 snakes, one anfisbaenian, four chelonians and three caimans). Of these species, eleven (Adelphobates quinquevittatus, Hyalinobatrachium munozorum, Pristimantis academicus, P. aureolineatus, Syncope antenori, Alopoglossus buckleyi, Drymobius rhombifer, Liophis dorsocorallinus, L. taeniogaster, Umbrivaga pygmaea, e Micrurus remotus) were registered for the first time to Acre, six (H. munozorum, P. academicus, P. aureolineatus, S. antenori, A. buckleyi e L. dorsocorallinus) of which also are the first records for Brazil. The importance of the form of forest use by traditional peoples (indigenous, extractive and riverine people) was pointed out, as well that of areas for conservation of the high biodiversity found in the Upper Juruá. Also the need for studies on the use of some species (especially chelonians and crocodilians) to evaluate possible impacts on the populations of these animals is stressed.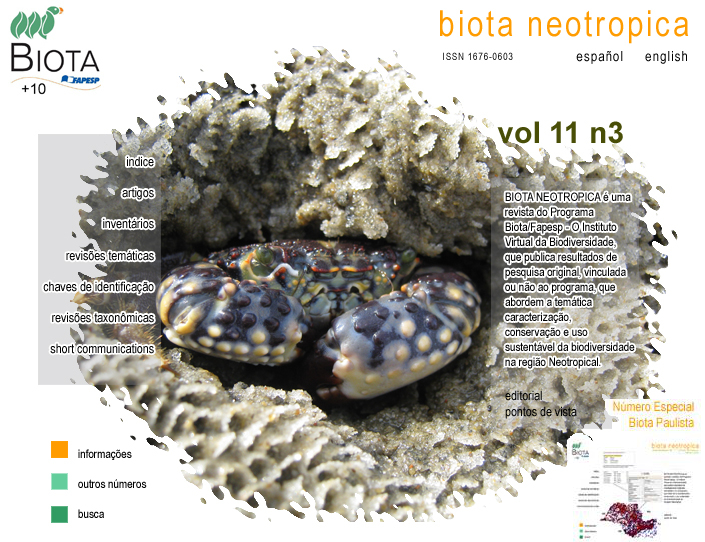 How to Cite
Bernarde, P. S., Machado, R. A., & Turci, L. C. B. (2011). Herpetofauna of Igarapé Esperança area in the Reserva Extrativista Riozinho da Liberdade, Acre – Brazil. Biota Neotropica, 11(3). Retrieved from //www.biotaneotropica.org.br/BN/article/view/841