Ephemeroptera (Insecta) from east of Mato Grosso State, Brazil
Keywords:
Pindaíba River Basin, Suiá-Miçú River Basin, diversity, aquatic insects, nymphs
Abstract
Aiming to present a survey of Ephemeroptera fauna of Ephemeroptera from Mato Grosso State we investigated mayfly nymphs mainly from two hydrographic basins located in the eastern area of the state. Sixty-seven species/morphospecies in 41 genera and eight families were encountered. Four species (Cloeodes redactus Waltz & McCafferty, 1987 and Waltzoyphius roberti Thomas & Peru, 2002 [Baetidae], Tricorytopsis chiriguano Molineri, 2001 [Leptohyphidae] and Microphlebia surinamensis Savage & Peters, 1983 [Leptophlebiidae]) are recorded for the first time from Brazil. The families Euthyplociidae, Polymitarcyidae and Coryphoridae are recorded for the first time from Mato Grosso, as well as 19 genera and 18 species. Twenty-five species could not be identified due to the lack of knowledge regarding the nymphal stage of their respective genera. As demonstrated in others surveys of mayflies in Brazil, the order is much more diverse than currently recognized, especially if we consider that several physiognomies and hydrographic basins of the state remain undocumented.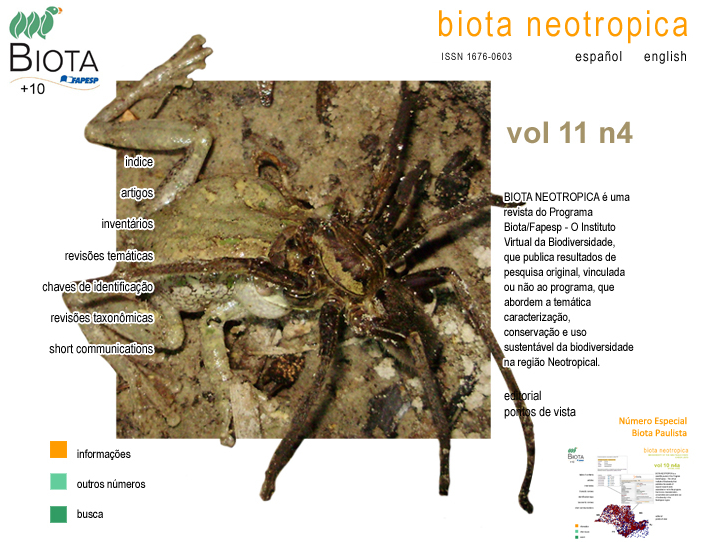 How to Cite
Shimano, Y., Salles, F. F., & Cabette, H. S. R. (2011). Ephemeroptera (Insecta) from east of Mato Grosso State, Brazil. Biota Neotropica, 11(4). Retrieved from https://www.biotaneotropica.org.br/BN/article/view/882