First survey of mayflies (Ephemeroptera, Insecta) from Espírito Santo State, Southeastern Brazil
Keywords:
aquatic insects, diversity, neotropical, Caparaó, Sooretama
Abstract
Based on collections performed between 2008 and 2009 at Parque Nacional do Caparaó, Reserva Biológica de Sooretama, among other areas in Espírito Santo State, southeastern Brazil, we present the first survey of mayflies (Insecta: Ephemeroptera) from the state. Despite the fact that the state is one of the smallest in Brazil, representing only 0.53% of the country area, a surprising diversity was found. Seventy-six species, 41 genera and nine families were identified, which represents about 25% of the species reported from Brazil, 65% of the genera, and almost all families. Of these, 17 species (most of Baetidae and Leptophlebiidae) are new to science. Five species, collected only at the nymphal stage, could not be identified to the species level. The present work demonstrates that, as for other organisms, the diversity of mayflies is high in the state, and more works aiming to investigate the aquatic insect composition of the Espírito Santo State should be encouraged.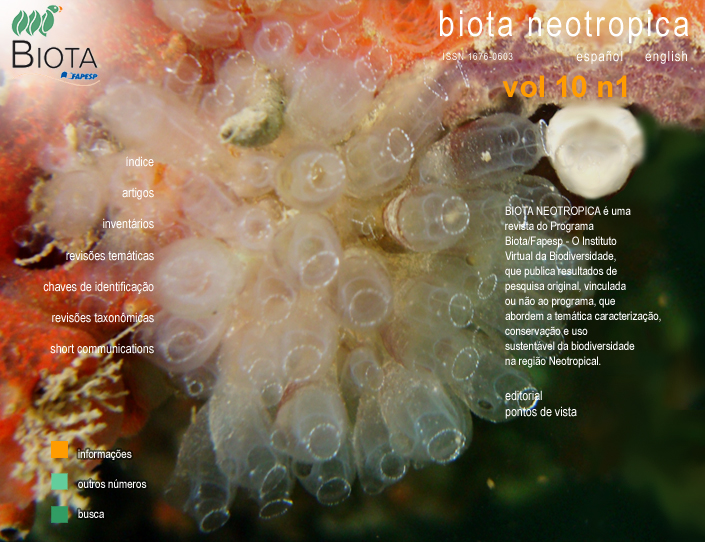 How to Cite
Salles, F. F., Nascimento, J. M. C. do, Massariol, F. C., Angeli, K. B., Silva, P. B. e, Rúdio, J. A., & Boldrini, R. (2010). First survey of mayflies (Ephemeroptera, Insecta) from Espírito Santo State, Southeastern Brazil. Biota Neotropica, 10(1). Retrieved from //www.biotaneotropica.org.br/BN/article/view/621