New Records of Ephemerelloidea (Insecta: Ephemeroptera) from São Paulo State
Keywords:
aquatic insects, Mayflies, Leptohyphidae, Melanemerellidae
Abstract
Four new records of Ephemerelloidea for São Paulo State, Leptohyphes cornutus Allen, Leptohyphes plaumanni Allen, Tricorythodes bullus Allen, and Traverhyphes (Traverhyphes) indicator (Needham & Murphy) are presented. The latter species constitutes a new record for Brazil. In addition of the new records, the distribution of the following species are expanded: Leptohyphodes inanis Ulmer, Traverhyphes (Mocoihyphes) edmundsi (Allen), and Traverhyphes (Mocoihyphes) yuati Molineri.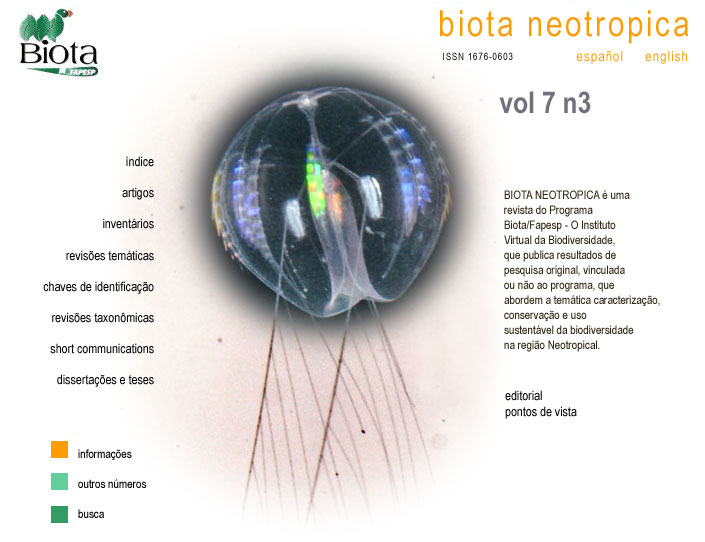 How to Cite
Dias, L. G., Salles, F. F., Polegatto, C. M., Silva, R. M., & Froehlich, C. G. (2007). New Records of Ephemerelloidea (Insecta: Ephemeroptera) from São Paulo State. Biota Neotropica, 7(3). Retrieved from //www.biotaneotropica.org.br/BN/article/view/347