Fauna of Leptophlebiidae Banks (Insecta: Ephemeroptera) on fragments of the Atlantic Forest from west region of Santa Catarina State, Brazil
Keywords:
Atalophlebiinae, Uruguai River, Brazilian Southern, nymphal stage, survey
Abstract
The first studies of Leptophlebiidae in the Santa Catarina State, Southern Brazil, dated from 1920. Since then, not much is known about the family (even to the Order Ephemeroptera) to the State. The main goal of this study was to survey fauna of Leptophlebiidae in the Santa Catarina State based on nymphs. The material was obtained from the collection deposited at the Laboratório de Pesquisa em Ecologia e Química of the Universidade Comunitária da Região de Chapecó, besides additional specimens collected between 2008 and 2009. Occurrences were plotted in the hydrograph map of Santa Catarina State, with one map for each genus. The Leptophlebiidae nymphs were recorded in 26 aquatic environments that included small streams and rivers. We identified 24 morphotypes distributed in 12 genera. Number of genera in the Western of Santa Catarina increased from eight to 15. Thraulodes, Ulmeritoides and Homothraulus presented higher frequency of occurrence in the region. Leentvaaria and Hermanella were associated to regions well conserved such as in the Araucaria forest. Needhamella and Segesta were related mainly to Irani River.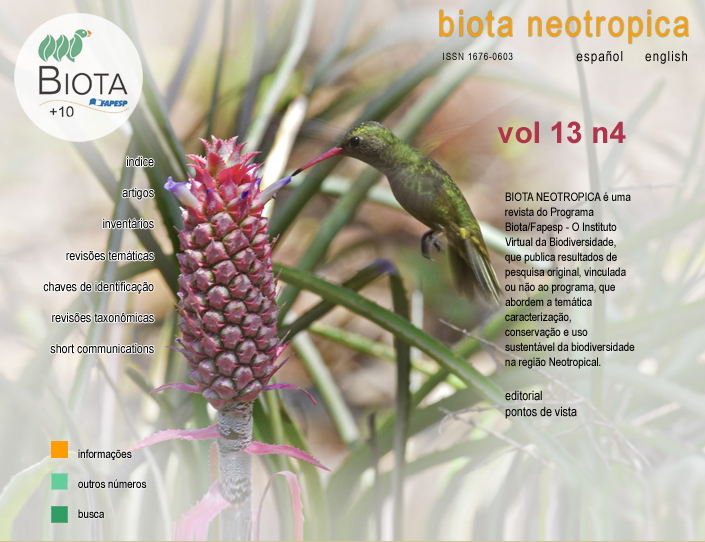 How to Cite
Raimundi, E. A., Salles, F. F., & Souza-Franco, G. M. de. (2013). Fauna of Leptophlebiidae Banks (Insecta: Ephemeroptera) on fragments of the Atlantic Forest from west region of Santa Catarina State, Brazil. Biota Neotropica, 13(4). Retrieved from //www.biotaneotropica.org.br/BN/article/view/1231