Thalassiosirales (Diatomeae) from Guaratuba bay, Paraná state, Brazil
Keywords:
diatoms, taxonomy, estuary, Southern Brazil
Abstract
A survey of the Thalassiosirales from three different regions of Guaratuba bay resulted in the identification of 28 infrageneric taxa. The samples were collected every three months from April 2007 to January 2008. The taxa were described and illustrated by optical. Some of them were illustrated by scanning electron micrographs. Taxonomic comments were added when relevant. Thalassiosira cedarkeyensis was first recorded to Brazil and two Thalassiosira ferelineata and T. minuscula were new citations to Parana state. Comparing the occurrence of Thalassiosirales representatives from 1961's previous work 23 species were added to the flora. Based on literature informations, only four species were considered from freshwater habitat, Discostella stelligera, Cyclotella meneghiniana, Cyclostephanos invisitatus and Thalassiosira rudis, the others were marine or estuarine.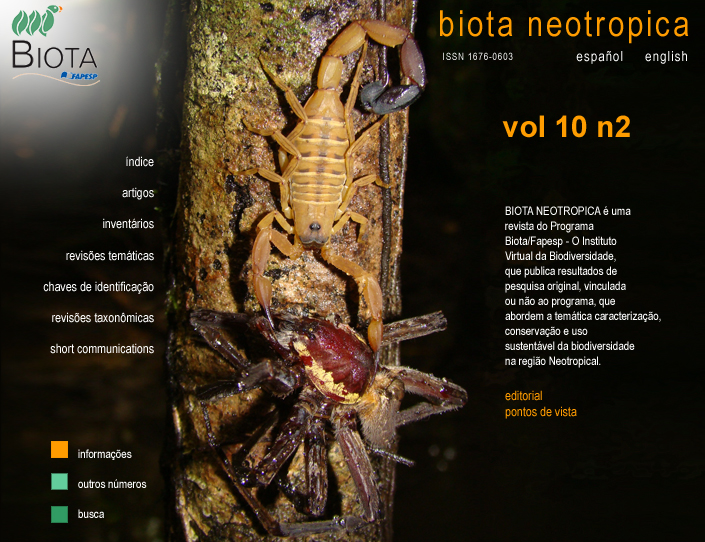 How to Cite
Lehmkuhl, E. A., Tremarin, P. I., Moreira-Filho, H., & Ludwig, T. A. V. (2010). Thalassiosirales (Diatomeae) from Guaratuba bay, Paraná state, Brazil. Biota Neotropica, 10(2). Retrieved from https://www.biotaneotropica.org.br/BN/article/view/703