Epiphytic Eunotia (Bacillariophyceae) on Podostemum from Santa Catarina, southern Brazil, including new observations on morphology and taxonomy of some rare recorded species
Keywords:
Diatom, Eunotiaceae, lotic systems, periphyton, taxonomy
Abstract
Eunotia is a highly diverse diatom genus in the Neotropics. Considerable morphological variability of the valve showed in several species of the genus resulted in a quite confused taxonomy. Twelve Eunotiataxa attached to Podostemum spp. were investigated using the light microscopy (LM). Additionally, scanning electron microscopy (SEM) was used in order to investigate the fine morphology of most abundant taxa. Samples were collected from four rivers from the State of Santa Catarina between March 2009 and July 2010. The freshwater diatom flora from this south Brazilian state is poorly known in relation to its neighboring states. Eunotia biseriatoides has intermediate features betweenEunotia and Perinotia, and the circumscription of these genera is discussed here. Eunotia odebrechtiana is very similar in morphology to E. biseriatoides, and the synonymy is proposed, as well as the transfer of the variety E. odebrechtiana var.essequiboensis to the species E. biseriatoides. The fine structure of E. epithemioides is showed for the first time in SEM, revealing the unusual position of the rimoportula in this genus. A new variety, E. pseudosudetica var. rotundata var. nov., was proposed and compared with the typical one. Except by E. veneris, all other eleven taxa presented here are new records for the State of Santa Catarina, Brazil.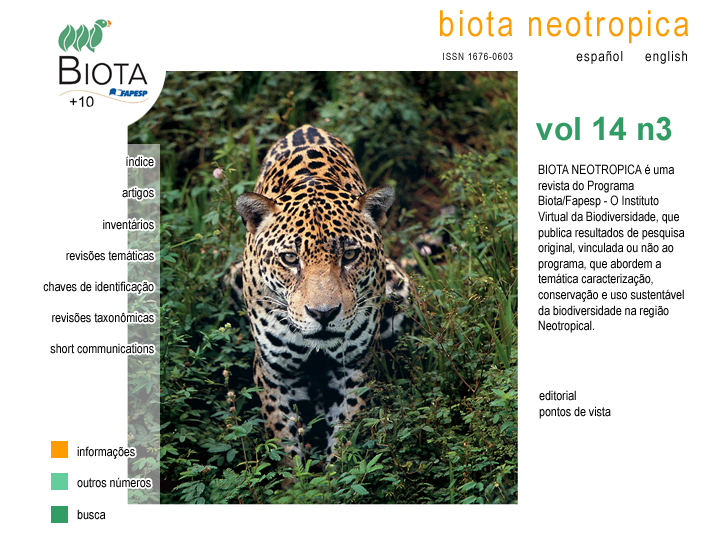 How to Cite
Cavalcante, K. P., Tremarin, P. I., de Castro, E. C., de Azevedo Tibiriçá, C. E. J., Wojciechowski, J., & Ludwig, T. A. V. (2014). Epiphytic Eunotia (Bacillariophyceae) on Podostemum from Santa Catarina, southern Brazil, including new observations on morphology and taxonomy of some rare recorded species. Biota Neotropica, 14(3). Retrieved from //www.biotaneotropica.org.br/BN/article/view/1331