Phytophagous species of Scarabaeidae (Insecta: Coleoptera) associated with the root system of Acrocomia aculeata (Jacq.) Loddi. ex Mart. (Arecaceae)
Keywords:
Arthropodofauna, bocaiúva, palm, Scarabaeoidea, soil fauna
Abstract
The palm Acrocomia aculeata (bocaiúva) represents an important source of income for small farmers, who operate mostly in the extractive form, and besides its socioeconomic importance it is also shelter and food for a large group of animals. However, there are few studies on the arthropodofauna associated with this plant, so this work is aimed at learning about the species and the biological aspects of the phytophagous scarab beetles that are associated with the root system of this palm. The collections were held from April to October 2007, through excavations conducted at the base of plants, and the specimens found were quantified in a laboratory study. A total of 150 specimens, 138 (92.0%) of which were larvae, two (1.3%) were pupae and 10 (6.7%) adults. The larvae were found in greater amounts in the months of April and May, when there were 4.88 and 5.38 larvae per plant, respectively. The pupae were collected in July and August, and adults from August to October. The phytophagous scarabs associated with the root system of A. aculeata are members of three sub-families, five genera and seven species. The species found were: Astaena sp., Cyclocephala verticalis Burmeister, Leucothyreus dorsalis Blanchard, Leucothyreus sp., Liogenys fuscus Blanchard, Phyllophaga sp.1 and Phyllophaga sp.2. Specimens of Leucothyreus sp. accounted for 30.8% of total.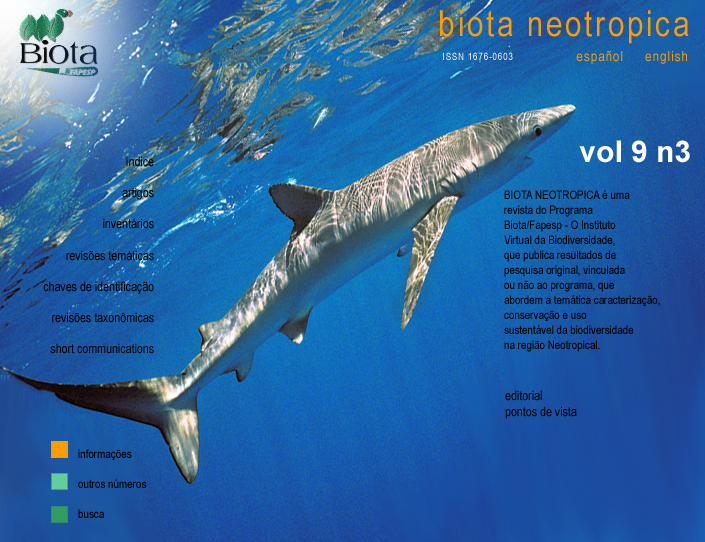 How to Cite
Puker, A., Rodrigues, S. R., Tiago, E. F., & Santos, W. T. dos. (2009). Phytophagous species of Scarabaeidae (Insecta: Coleoptera) associated with the root system of Acrocomia aculeata (Jacq.) Loddi. ex Mart. (Arecaceae). Biota Neotropica, 9(3). Retrieved from https://www.biotaneotropica.org.br/BN/article/view/555