The mating behavior of Leucothyreus marginaticollis Blanchard, 1843 (Coleoptera: Scarabaeidae: Rutelinae)
Keywords:
Chemical communication, eating habit, Geniatini, Scarabaeoidea, white grubs
Abstract
Abstract In Brazil, there are several species of the genus Leucothyreus Macleay, 1819 occurring throughout the country; however, there are only a few studies describing their biological aspects, times of occurrence, associations of adults and juveniles with native or cropped plants, as well as their mating behavior. Thus, this study aimed to assess the mating behavior of Leucothyreus marginaticollis Blanchard, 1843. The study took place in an experimental area of the State University of Mato Grosso do Sul, in Aquidauana, MS, Brazil. Firstly, we sampled adult insects using light traps, from October to November 2013. Simultaneously, we registered the flight period in the field. Afterward, in the laboratory, males and females were separated and then combined into couples for observations of the mating steps. A large number of the adults mated, which lasted on average 22.71 min and occurred from 7 to 11 pm. After mating, part of the males released the females and the other part remained attached to them, which must have happened as an attempt to inhibit other males from mating with them. Moreover, a few females refused to mate with the established male, reinforcing the fact that the pairing of couples occurs after chemical identification among adults. In the field, the largest amount of adults was collected from 8 to 10 pm. Regarding eating habits, adults feed mostly on acerola leaves and flowers (Malpighia emarginata DC, Malpighiaceae), mastic gum leaves (Myracrodruon urundeuva Allemão, Anacardiaceae), grapes (Vitis vinifera L., Vitaceae), apples (Malus domestica Borkh., Rosaceae), and bananas (Musa sp. L., Musaceae). To the end of the experiment, we could clarify the mating steps of L. marginaticollis in order to assist in further extraction and identification of sexual pheromone.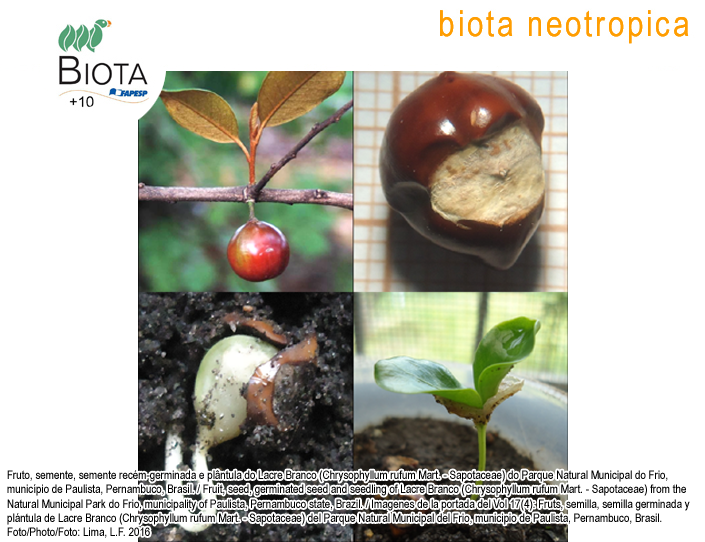 How to Cite
Ferreira, K. R., & Rodrigues, S. R. (2017). The mating behavior of Leucothyreus marginaticollis Blanchard, 1843 (Coleoptera: Scarabaeidae: Rutelinae). Biota Neotropica, 17(4). Retrieved from //www.biotaneotropica.org.br/BN/article/view/1478