Description of mating behavior, life cycle, and antennal sensilla of Cyclocephala putrida Burmeister, 1847 (Coleoptera, Scarabaeidae, Dynastinae)
Keywords:
Chemical Communication, Chemical Receptors, Cyclocephalini, Neotropical, Swarming Flights
Abstract
Abstract The genus Cyclocephala is common in Brazil (Coleoptera, Scarabaeidae, Dynastinae). The adults of some species are important pollinators, and the larvae develop in the soil, feed on organic matter, and contribute to nutrient cycle, but immatures of some species feed on plant roots, and some were registered causing damage in crops. The mating process of some phytophagous scarab beetles has a chemical recognition step, and the antenna is the main structure involved in the detection of odorants associated with insect communication. In the present study the mating behavior, life cycle, and antennal sensilla of C. putrida are described. The study was conducted at the Universidade Estadual de Mato Grosso do Sul, Cassilândia, Brazil. Adults were collected by a light trap installed from January 2016 to December 2017 and were taken to the laboratory for studies. Adults swarms are brief and were registered from January to February, and specimens were mostly collected at 20:00 to 22:00h. Chemical recognition may occur at least during one of the mating steps, during which the couple kept their antennae moving and the lamellae open, while females select males. In laboratory, the mating process lasted 7.5 minutes on average. The antennae of females have about 3399 sensilla and males about 4229 sensilla. Sensilla placodea types I, II, and III are the most abundant, and sensilla ampullacea, basiconica, and coeloconica are also present. The embryonic period lasted 16.0 days; first, second and third instars lasted 16.0, 48.3, and 165.3 days, respectively. The pupal period lasted 24.0 days. The period between egg deposition and adult emergency is about 271.5 days.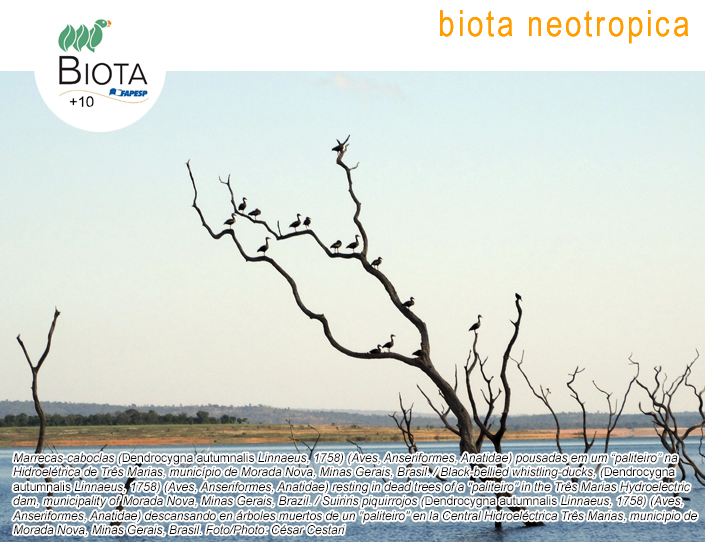 How to Cite
Saldanha, F. G., Rodrigues, S. R., Amaro, R. A., & Fuhrmann, J. (2020). Description of mating behavior, life cycle, and antennal sensilla of Cyclocephala putrida Burmeister, 1847 (Coleoptera, Scarabaeidae, Dynastinae). Biota Neotropica, 20(3). Retrieved from https://www.biotaneotropica.org.br/BN/article/view/1754