Species of Geotrupidae (Coleoptera: Scarabaeoidea) in Aquidauana, Mato Grosso do Sul, Brazil
Keywords:
athyreinae, bolboceratinae, insect ecology, insecta
Abstract
Coleoptera of the family Geotrupidae play an important ecological role in the decomposition of animal and plant organic matter. In Brazil there is little information on the diversity and distribution of this group, thus, this work had a purpose to study Geotrupidae species, occurring in Aquidauana, MS. A survey for geotrupids was conducted in Aquidauana, Mato Grosso do Sul, Brazil. Beetles were captured using a light trap over a period of two years, from January 2006 to December 2007. A total of 907 specimens were collected and identified to eight species. From the subfamily Bolboceratinae, the species identified were Bolbapium minutum (Luederwaldt, 1929) and Pereirabolbus castaneus (Klug, 1845). In the subfamily Athyreinae the species identified were Athyreus bilobus Howden & Martínez, 1978, Parathyreus aff. bahiae, Neoathyreus aff. julietae, N. sexdentatus Laporte, 1840, N. centromaculatus (Felsche, 1909) and N. goyasensis (Boucomont, 1902). Four species (A. bilobus, N. centromaculatus, N. goyasensis and P. castaneus) are reported for the first time in Aquidauana, MS, Brazil. The most abundant species, representing 85.9% of the total capture, was B. minutum. The greatest numbers of specimens was caught from October to December of both years of the study.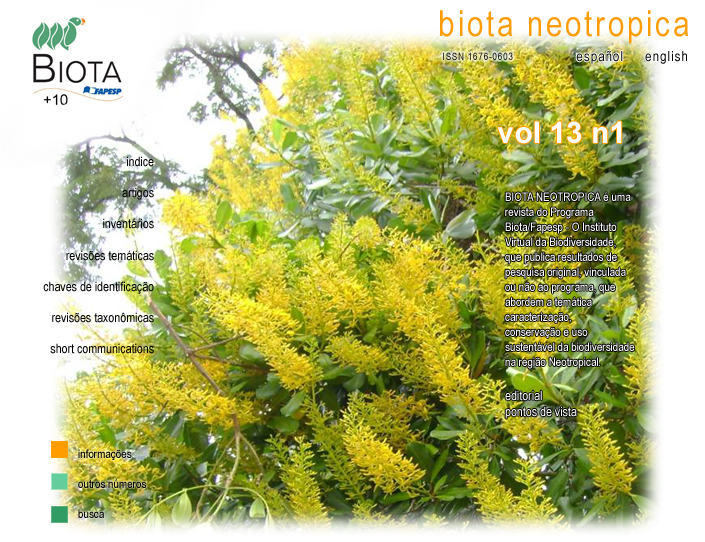 How to Cite
Rodrigues, S. R., & Puker, A. (2013). Species of Geotrupidae (Coleoptera: Scarabaeoidea) in Aquidauana, Mato Grosso do Sul, Brazil. Biota Neotropica, 13(1). Retrieved from https://www.biotaneotropica.org.br/BN/article/view/1081
Section
Short Communications