Survey of saproxylophagous Melolonthidae (Coleoptera) and some biological aspects in Aquidauana, MS
Keywords:
Cetoniinae, decomposers, Dynastinae, Rutelinae
Abstract
Coleoptera of the family Melolonthidae plays an important role in decomposition and nutrient recycling in the environment, however the information of this group is scarce in Brazil; therefore studies were developed with the objective of understanding the biological aspects of saproxylophagous. The studies were developed in the experimental farm of the State University of Mato Grosso do Sul, in Aquidauana, from March 2011 to April 2012. In a forest fragment of the cerrado, when encountering fallen tree trunks, they were cut into small pieces for extraction and acquisition of immature and adult Melolonthidae. Larvae were taken to the laboratory where they were reared until emergence of adults, obtaining biological and biometric data. A total of 145 larvae and 11 adults were collected. Third instar larvae of Strategus surinamensis Burmeister, 1847, collected in this phase lasted 230 days and 31.3 days in the pupal stage. Third instar larvae of Phileurus valgus (Linnaeus, 1758), in this phase lasted 49 days and 13 days in the pupal stage. Third instar larvae Pelidnota fulva Blanchard, 1850, after being collected remained for 61 days in this phase and 25.3 days in the pupal stage. AdultsPelidnota aff. vazdemeloi were collected inside tree trunks. ToMacraspis festiva Burmeister, 1844, the third instar larvae collected lasted for 39 days at this stage, and pupae lasted 17 days. Third instar larvae of Rutela lineola(Linnaeus, 1767), in this phase lasted 23 days, and pupae lasted 16.3 days. ToHoplopyga liturata (Olivier, 1789), third instar larvae collected lasted 21 days and pupae lasted 18 days. To Hoplopyga boliviensis (Moser, 1918), third instar larvae lasted 33 days and pupae 16 days. Second and third larval instarMarmarina maculosa (Olivier, 1789) collected lasted respectively, 105 and 171.3 days and pupae lasted 26 days. The species collected in greatest quantity were M. festiva with 75 larvae,R. lineola with 20 larvae and H. boliviensis with 18 larvae. Larvae were collected during several months, where in July 32 larvae were sampled and in August 39 larvae, the largest quantities encountered.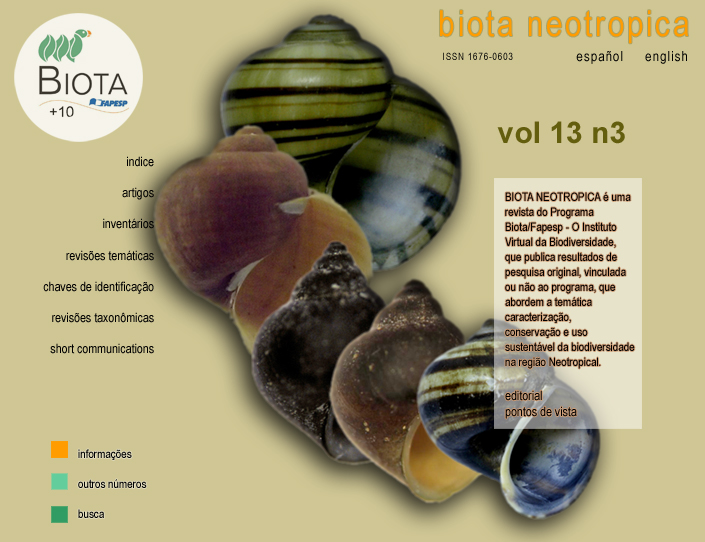 How to Cite
Garcia, F. P., Rodrigues, S. R., Bagnara, C. A. C., & Oliveira, D. S. de. (2013). Survey of saproxylophagous Melolonthidae (Coleoptera) and some biological aspects in Aquidauana, MS. Biota Neotropica, 13(3). Retrieved from https://www.biotaneotropica.org.br/BN/article/view/1283