Checklist of the fishes from Jamari River basin, in areas under influence of dams, Rondônia, Brazil
Keywords:
Diversity, species list, Madeira River, Amazon basin, freshwater fish
Abstract
Abstract: The Madeira River is the most extensive tributary of the Amazon River and has the largest diversity of fishes in the world. On its right bank, the Madeira River receives the Jamari River, in which the first hydroelectric power plant (HPP) in State of Rondônia, Samuel HPP, was built. Besides this, other dams were built in the Jamari River and its tributaries, however, the available information in the scientific literature about the ichthyofaunistic diversity of this basin is rare. This work aims to provide an ichthyofaunistic inventory in a region of the Jamari river basin, in the State of Rondônia, where three small hydropower plants (SHPs) were implemented. The ichthyofauna was sampled in 16 expeditions between August 2015 and December 2018. Gill nets and seine nets were used with different meshes, as well as longlines and cast nets at different times of the day. Additionally, 81 INPA lots of species from the Samuel HPP area of influence were reanalyzed. Fish were identified according to the specialized literature, as well as in consultations with experts of various taxonomic groups. Voucher specimens of the species were cataloged and deposited in the ichthyological collection of the Núcleo de Pesquisas em Limnologia, Ictiologia e Aquicultura (Nupélia) of the Universidade Estadual de Maringá. A total of 230 species were recorded, of which 22 were putative new species, 117 were added to the Jamari River basin and 28 to the Madeira River basin. The continuation of the studies in this section of the Jamari river basin is fundamental for analysis of local impact due to the presence of dams. Moreover, the addition of putative new species to the Madeira River basin indicates gaps in the knowledge of Neotropical ichthyofauna.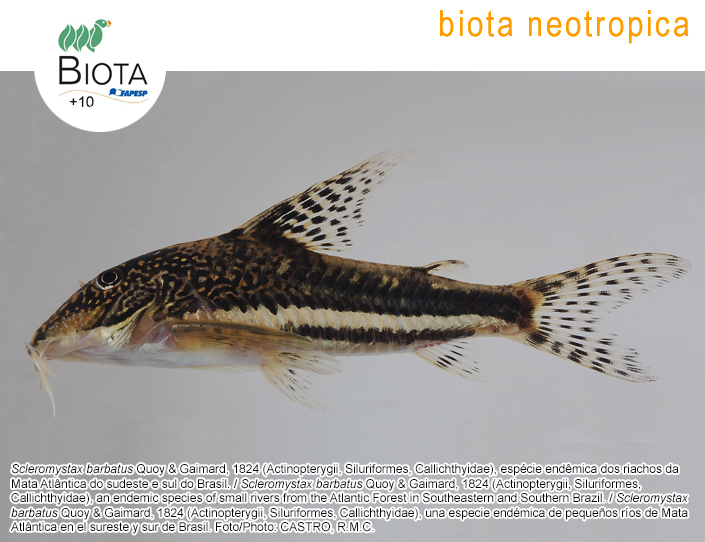 How to Cite
Oliveira, R. C. de, Deprá, G. de C., Zawadzki, C. H., Silva, J. C. B. da, & Graça, W. J. da. (2020). Checklist of the fishes from Jamari River basin, in areas under influence of dams, Rondônia, Brazil. Biota Neotropica, 20(1). Retrieved from //www.biotaneotropica.org.br/BN/article/view/1698