Coexistence between Turdus leucomelas Vieillot, 1818 and Turdus rufiventris Vieillot, 1818 (Aves: Passeriformes) in an urban remnant of Araucária tree Forest, Southern Brazil
Keywords:
coexistence, Turdidae, urban forest fragment
Abstract
We investigated the strategies which make possible the coexistence of two congeneric and relatively similar species that share habitat (Turdus leucomelas and Turdus rufiventris) in an urban forest fragment with araucárias. The parameters applied were average abundance, forest stratum used by birds, forest environments, morphological aspects, and diet between the species. These parameters were assessed through samplings with mist nets in the understory, verification of abundance using transects, and acquisition of regurgitation. The species showed similar patterns of occurrence in the surveyed environments - exposed border, transition, and inner forest. There was a morphological overlap of 98.67 (Bray-Curtis index), andt a test of canonical variables (F6, 88 = 25.39; p < 0.01) pointed significant difference for a set of seven morphological variables. Although there is certain similarity between species, T. rufiventris showed higher extreme values and higher morphological variation. The overlap of trophic niche was elevated (Ojk = 0.76) and the species were considered as generalists, with higher extent of trophic niche for T. rufiventris. A competitive exclusion based on feeding is not quite evident. Yet, the consumed items diverged when analyzed for presence/absence, the minimum of morphological evidence and variation on the consumed resources may partially explain the coexistence. Segregation between environments and occupied forest strata was not clearly demonstrated, despite detectable when regarding interior and border of the forest fragment.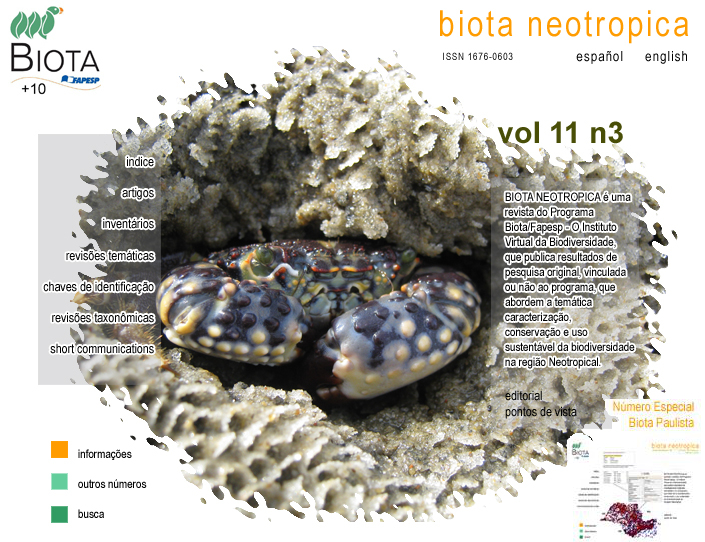 How to Cite
Vogel, H. F., Zawadzki, C. H., & Metri, R. (2011). Coexistence between Turdus leucomelas Vieillot, 1818 and Turdus rufiventris Vieillot, 1818 (Aves: Passeriformes) in an urban remnant of Araucária tree Forest, Southern Brazil. Biota Neotropica, 11(3). Retrieved from //www.biotaneotropica.org.br/BN/article/view/835