From the headwaters to the Iguassu Falls: Inventory of the ichthyofauna in the Iguassu River basin shows increasing percentages of nonnative species
Keywords:
Extinction, risk, Fish, Introduced, species, List of species, Paraná, State
Abstract
Abstract: Knowledge of the ichthyofauna of a hydrographic basin is the minimum necessary condition for the implementation of any measures for the exploration, management or preservation of water and fishing resources. Despite its relevance, the number of fish species across the Iguassu River basin is still uncertain. Thus, the objective of this study was to compile the fish species that occur in the extensive stretch of the basin above the Iguassu Falls. In addition, we recorded the level of threat of extinction for native species, the origin of nonnative species, and their main vectors of introduction. To achieve this goal, a survey was carried out through consultations with ichthyological collections as well as online databases. Also, a literature review was conducted using the search platforms Thomson Reuters, SciELO and Elsevier's ScienceDirect to locate all articles published by March 2020 that addressed the topic "ichthyofauna in the Iguassu River basin". The survey compiled a total of 133 fish species distributed in nine orders, 29 families and 72 genera. Seventy-nine fish species were recorded that occur throughout the entire length of the basin, 119 species that occur in the hydrographic units of the middle and lower Iguassu River (40 exclusive) and 93 species that occur in the hydrographic unit of the upper Iguassu River (14 exclusive). The endemism rate shown here for the Iguassu River basin (approximately 69%) contrasts with the 40 nonnative fish species recorded (approximately 30% of the total species in the basin). Successive impoundments, reductions in habitat quality and the increase in the number of nonnative species are the main threats to native species, especially to the endemic species; approximately 20% of these species were listed in some category of threat of extinction. We emphasize that constant monitoring of ichthyofauna is necessary to discover putatively undescribed species, as well as for the application of management strategies to mitigate the negative effects and promote the control of the spread of nonnative species.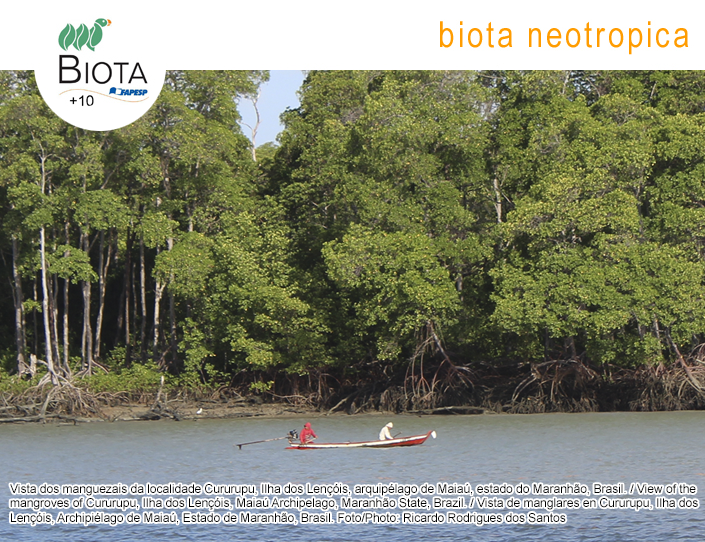 How to Cite
Mezzaroba, L., Debona, T., Frota, A., Graça, W. J. da, & Gubiani, Éder A. (2021). From the headwaters to the Iguassu Falls: Inventory of the ichthyofauna in the Iguassu River basin shows increasing percentages of nonnative species. Biota Neotropica, 21(2). Retrieved from https://www.biotaneotropica.org.br/BN/article/view/1808