Diversity of Odonata (Insecta) in Seasonal Deciduous Forest fragments in southern Brazil (state of Rio Grande do Sul), with a new record for the state and comments on the seasonal distribution of the species
Keywords:
dragonflies, inventory, Atlantic Forest, streams, farm ponds.
Abstract
Abstract: We present an Odonata (Insecta) check list of species occurring in a fragment of the Seasonal Deciduous Forest (Atlantic Forest biome) from the central region of the state of Rio Grande do Sul (RS), southern Brazil, along with a list of the odonate species recorded in this phytoecological region for the state. In addition, we provide comments on the seasonal distribution of the species occurring in the study area. Two streams and seven farm ponds located in the middle course of the Jacuí River basin were surveyed between December 2007 and February 2009. Overall, we recorded 49 species from 21 genera and six families. Argia serva Hagen in Selys, 1865 (Coenagrionidade) had its first occurrence record mentioned for the state, elevating to 183 the total number of Odonata species occurring in Rio Grande do Sul. The number of species recorded in the study area corresponds to ~26% of the known Odonata diversity in RS. Libellulidae was the most species-rich family (22 species, ~45% of the total), followed by Coenagrionidae (18 species, 37% of the total). The checklist for the Seasonal Deciduous Forest in RS indicated the occurrence of 83 species of Odonata in this phytoecological region (~45% of the known odonate species in the state). This elevated diversity could be related to the density of the vegetation structure. In the study area, 20 species were found in streams, and 45 in farm ponds. Species occurrence showed marked seasonal patterns in the study area, with 88% of the species recorded from summer to autumn, and no species detected in streams in the winter. Moreover, 70% of the species were recorded in either one or two seasons in farm ponds, while 65% occurred solely in one season in streams. This result indicates that the life cycle of Odonata in southern Brazil is strongly influenced by seasonal patterns in temperature.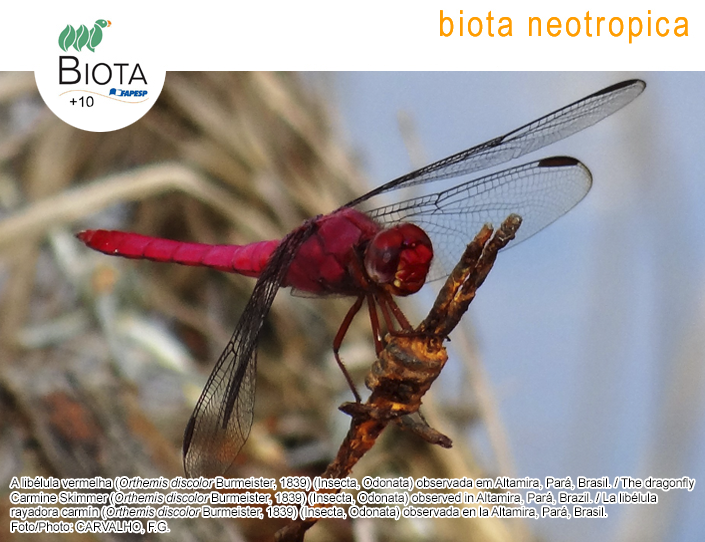 How to Cite
Pires, M. M., Kotzian, C. B., Sganzerla, C., Prass, G., Dalzochio, M. S., & Périco, E. (2019). Diversity of Odonata (Insecta) in Seasonal Deciduous Forest fragments in southern Brazil (state of Rio Grande do Sul), with a new record for the state and comments on the seasonal distribution of the species. Biota Neotropica, 19(4). Retrieved from //www.biotaneotropica.org.br/BN/article/view/1668