Diversity of Odonata (Insecta) larvae in streams and farm ponds of a montane region in southern Brazil
Keywords:
dragonfly, inventory, Neotropical region, reservoirs, riverine fauna
Abstract
This study presents an inventory of the genera of Odonata found in streams and artificial farm ponds in a montane region, with temperate climate, in southern Brazil. Differences in richness of lotic and lentic environments were also investigated. The diversity of odonate families and genera in southernmost Brazil is lower than in warmer, either tropical or subtropical, regions of the country. Nine genera are new records for the region and six genera had their geographical ranges extended to regions with temperate climate of the Neotropics. The overall richness and especially the overall abundance recorded in the studied area are possibly determined by the occurrence of numerous farm ponds because natural standing waters are scarce in the region. The presence of macrophytes in these artificial ponds allowed the establishment of a diversified odonatofauna, typical of lentic environments.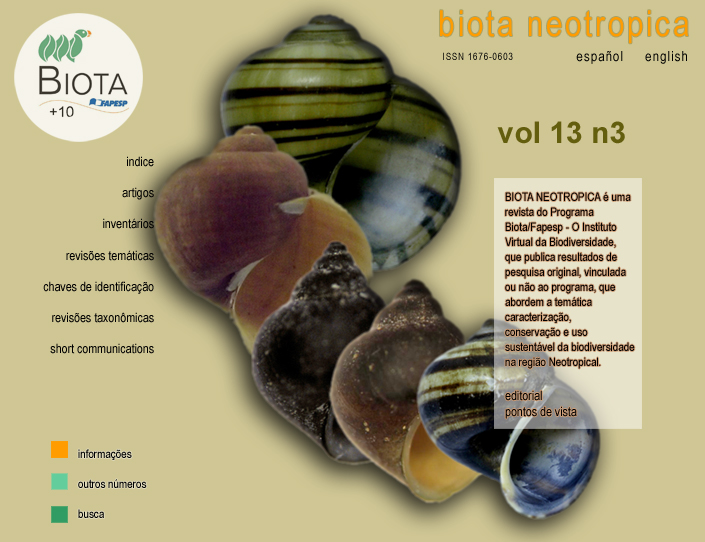 How to Cite
Pires, M. M., Kotzian, C. B., Spies, M. R., & Neri, D. B. (2013). Diversity of Odonata (Insecta) larvae in streams and farm ponds of a montane region in southern Brazil. Biota Neotropica, 13(3). Retrieved from https://www.biotaneotropica.org.br/BN/article/view/1278