Length-weight relationship and condition factor for Oligosarcus hepsetus (Cuvier, 1829) in Serra do Mar State Park - Santa Virgínia Unit, Atlantic Forest, São Paulo, Brazil
Keywords:
length-weight relationship, condition factor, Oligosarcus hepsetus, Atlantic Forest
Abstract
In this work the length-weight relationship and the condition factor of Oligosarcus hepsetus were analyzed in the Grande river within the Santa Virgínia Unit of the Serra do Mar State Park, State of São Paulo. The length-weight relationship was esteemed for immature, females and male, through the expression W = aLb. The parameters a and b were dear after logarithmic transformation of the data of weight and length and subsequent adjustment of a straight line to the points for the method of the minimum square. For females and males were obtained the equations of the length-weight relationships by period of the year (autumn, winter, spring and summer), using the total weight and the weight without the gonads. The factor of condition of the immature was higher than for males and females, possibly, due to the energy expense with the development of the oocytes and in smaller degree of the spermatozoids. This species presented larger values of condition factor in the autumn due to the fat accumulation and in the other stations these values decreased due to the long reproductive period. The environment conditions of the Atlantic forest seem to be primordial for the development of the reproductive strategies presented by Oligosarcus hepsetus.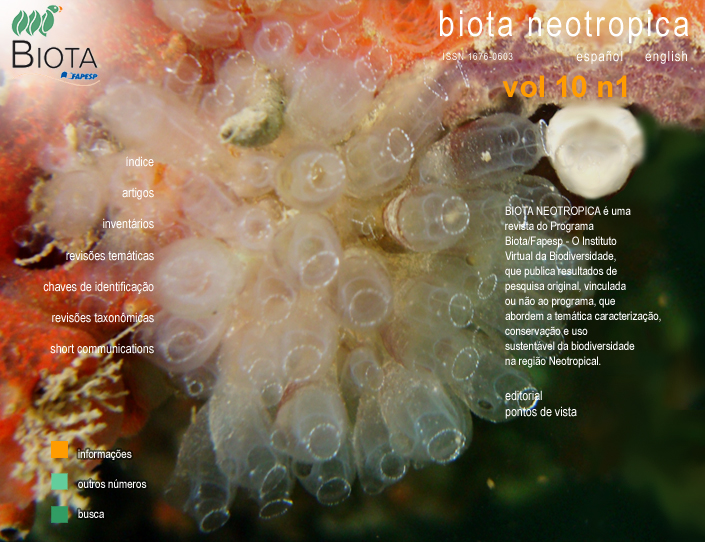 How to Cite
Gomiero, L. M., Villares Junior, G. A., & Braga, F. M. de S. (2010). Length-weight relationship and condition factor for Oligosarcus hepsetus (Cuvier, 1829) in Serra do Mar State Park - Santa Virgínia Unit, Atlantic Forest, São Paulo, Brazil. Biota Neotropica, 10(1). Retrieved from //www.biotaneotropica.org.br/BN/article/view/605