Growth and mortality of Oligosarcus hepsetus (Cuvier, 1829) (Characiforms, Characidae) in Serra do Mar State Park, Santa Virgínia Unit, São Paulo, Brazil
Keywords:
dogfish, neotropical freshwater species, population parameters, length frequencies, Atlantic Forest
Abstract
Growth and mortality parameters were estimated for Oligosarcus hepsetus caught in the Serra do Mar State Park, Núcleo Santa Virginia. Monthly length frequencies distributions were analyzed with the ELEFAN method within the FISAT program, using the seasonal version of the Von Bertalanffy's growth curve. The instantaneous rate of natural mortality was calculated using the empirical formula proposed by Pauly. The estimated parameters were K = 0.72, L∞ = 23.3 cm, C = 0.3, Wp = 0.7 and M = 1.25. These parameters corroborate the characteristics of a predator species with long reproductive period, spawning parceled out without parental care, and that lives in a typical river of Atlantic forest.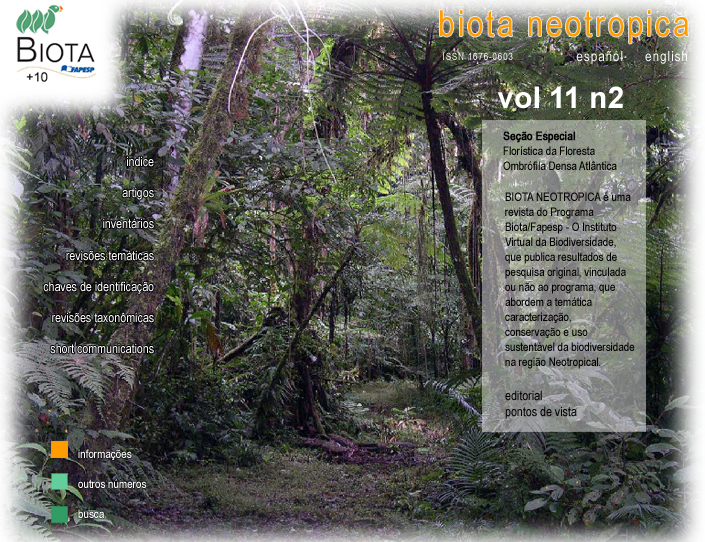 How to Cite
Carmassi, A. L., Rondineli, G. R., Gomiero, L. M., & Braga, F. M. de S. (2011). Growth and mortality of Oligosarcus hepsetus (Cuvier, 1829) (Characiforms, Characidae) in Serra do Mar State Park, Santa Virgínia Unit, São Paulo, Brazil. Biota Neotropica, 11(2). Retrieved from //www.biotaneotropica.org.br/BN/article/view/757