Vertebrates consumed by Brycon opalinus (Pisces, Characidae) in rivers in State Park of the Serra do Mar (SP, Brazil)
Keywords:
Anura, Rodentia, pirapitinga do sul, Atlantic Forest, predation, preservation
Abstract
Analysis of feeding of the pirapitinga do sul, Brycon opalinus, an endangered fish in rivers of the Atlantic Forest of the Serra do Mar in southeastern Brazil, revealed the occurrence of uncommon items. Species of this genus are opportunist omnivores and feed on plant and animal items, such as flowers, leaves, fruits, seeds, and a wide variety of insects. In three rivers of State Park of the Serra do Mar - Santa Virgínia Unit, B. opalinus presented three uncommon animal items: the amphibians Hypsiboas aff. pardalis (Anura, Hylidae) and Eleutherodactylus guentheri (Anura, Leptodactylidae), and the mammal Oligoryzomys cf. nigripes (Rodentia, Sigmodontinae). This register was related with the rains, when animal or plant matter carried into the river can be consumed by B. opalinus, even if they are not habitually eaten by this species. The preserved riparian forest is of prime importance in supplying animal and plant food items and for maintaining biotic and abiotic conditions for the survival of B. opalinus.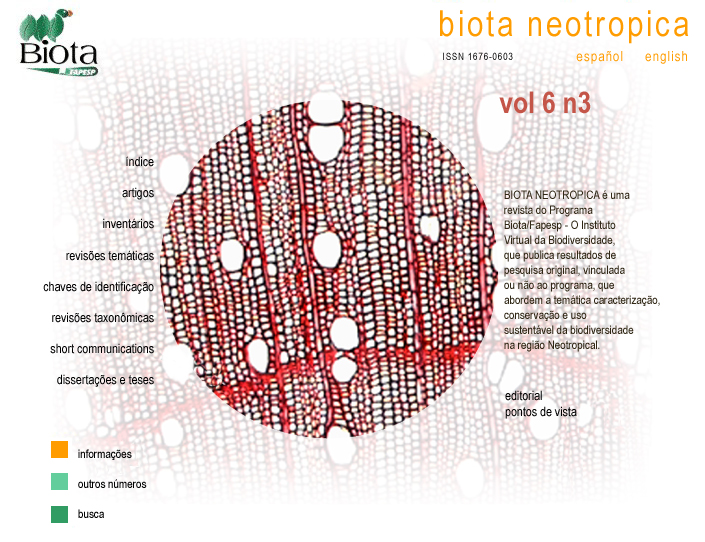 How to Cite
Gomiero, L. M., Briani, D. C., & Giasson, L. O. M. (2006). Vertebrates consumed by Brycon opalinus (Pisces, Characidae) in rivers in State Park of the Serra do Mar (SP, Brazil). Biota Neotropica, 6(3). Retrieved from //www.biotaneotropica.org.br/BN/article/view/242
Section
Short Communications