Reproduction and feeding of Rhamdia quelen (Quoy & Gaimard, 1824) in rivers of the Santa Virgínia Unit, State Park of the Serra do Mar, São Paulo, SP
Keywords:
Silver catfish, alimentary activity, fecundity, seasonal, Atlantic Forest
Abstract
The frames of this work were determine the reproductive period, fecundity, spawning type and feeding habits of Rhamdia quelen in rivers of the Atlantic Forest in Santa Virgínia Unit, State Park of the Serra do Mar, State of São Paulo. Monthly sampling through January to December 2004 were accomplished in two rivers, Paraibuna and Grande. The alimentary activity, fat accumulation in the visceral cavity and the reproductive period occurred throughout the year probably due to the environmental stability in the area. The diet of this specie was characterized as omnivorous, with tendency to insectivore. Rhamdia quelen was classified as fractional spawning type. The mean absolute fecundity ranged from 27,759.7 to 29,757.3 oocytes in Paraibuna and Grande rivers, respectively.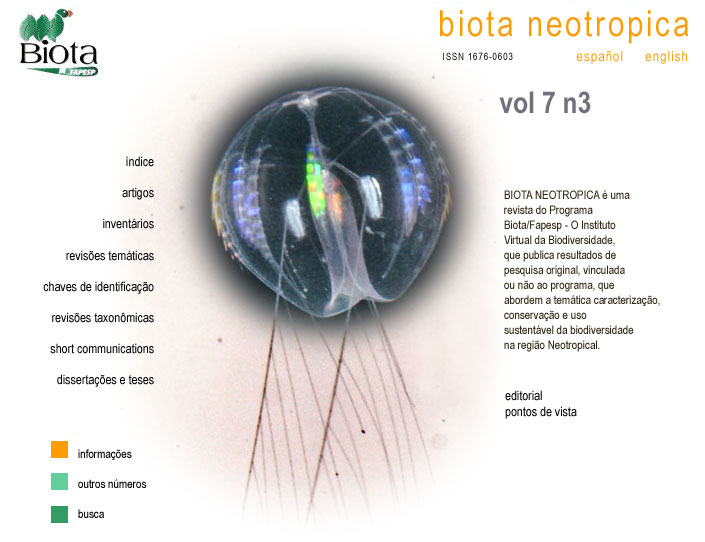 How to Cite
Gomiero, L. M., Souza, U. P., & Braga, F. M. de S. (2007). Reproduction and feeding of Rhamdia quelen (Quoy & Gaimard, 1824) in rivers of the Santa Virgínia Unit, State Park of the Serra do Mar, São Paulo, SP. Biota Neotropica, 7(3). Retrieved from //www.biotaneotropica.org.br/BN/article/view/326