Foraging preferences of the native stingless bee Melipona seminigra pernigra (Apidae: Meliponini) in campo rupestre on canga of Serra dos Carajás, southeastern Amazonia
Keywords:
Stingless bees, Honey, Pollen, Amazonia, Iron mining.
Abstract
Abstract: Honey pollen samples of Melipona seminigra pernigraMoure & Kerr 1950 sampled between 2017 and 2019 from experimental apiaries installed in campo rupestre on canga (CRC) vegetation of the Serra dos Carajás aimed to evaluated seasonal floral availability of undisturbed and mining-influenced areas. Around one hundred pollen types were identified mainly belonging to Fabaceae, Myrtaceae and Euphorbiaceae (31, 6 and 5 species, respectively). Mining area presented the highest pollen richness, almost twice those identified in the undisturbed areas. 80% of the pollen types are rare with concentrations ≤ 2,000 pollen grains/10 g, while the remaining were the most abundant, frequent and the primary bee sources. These latter correspond mostly to native plants species such as Tapirira guianensis Aubl., Protium spp., Aparisthmium cordatum (A.Juss.) Baill., Mimosa acutistipula var. ferrea Barneby, Periandra mediterranea (Vell.) Taub., Miconia spp., Pleroma carajasense K.Rocha, Myrcia splendens (Sw.) DC., Serjania spp. and Solanum crinitum Lam. All pollen types were identified during both seasons, but higher concentration values are related to the dry period (June-September). The statistical analysis of the pollen data indicated that there was no significant difference between undisturbed and mining-influenced areas, since primary bee sources of this study are widespread used in revegetation of mined areas.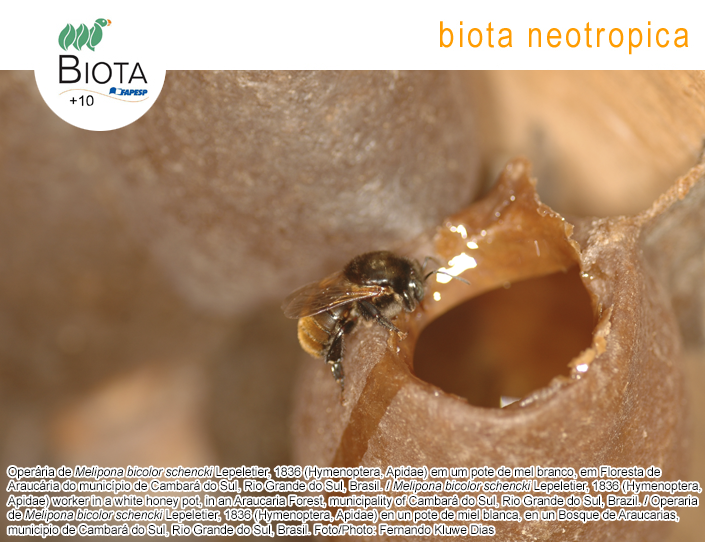 How to Cite
Guimarães, J. T. F., Costa, L., Zappi, D. C., Batista Junior, W. F., Lopes, K. da S., Alves, R. C. de O., Romeiro, L. de A., Silva, E. F. da, Carreira, L. M. M., Rodrigues, T. M., Giannini, T. C., Imperatriz-Fonseca, V. L., & Barth, O. M. (2021). Foraging preferences of the native stingless bee Melipona seminigra pernigra (Apidae: Meliponini) in campo rupestre on canga of Serra dos Carajás, southeastern Amazonia. Biota Neotropica, 21(1). Retrieved from https://www.biotaneotropica.org.br/BN/article/view/1800