Geographical origin of white honey produced by stingless bees in the Araucaria Forest in Southern Brazil
Keywords:
bee flora, Clethra scabra, meliponiculture, Meliponini, pollen.
Abstract
Abstract: Honey produced by native stingless bees in the Araucaria Forest region of Rio Grande do Sul, southern Brazil, specifically the municipality of Cambará do Sul, is highly valued for its characteristic white color, floral odor and taste. In this study, we investigated the botanical origin of white honey stored in colonies of five Meliponini species of the genera Melipona (n = 3) and Plebeia (n = 2). During the production period of white honey, from January to March, flowers were sampled fortnightly along pre-established trails to identify plants used by bees. For all sampled plant species, exsiccates and pollen reference slides were prepared. Honey samples from stingless bees were processed for extraction and preparation of pollen grains for identification of pollen types. In all analyzed honey samples, pollen grains of Clethra scabra (Clethraceae) were predominant (between 46-94%). Pollen grains from other botanical families, including Myrtaceae, Fabaceae and Melastomataceae were frequently identified in honey samples of the Melipona species, while Cunoniaceae was also found in samples of Plebeia species. In this study, we concluded that Clethra scabra is predominantly used by Meliponini bees in the production of white honey in the municipality of Cambará do Sul.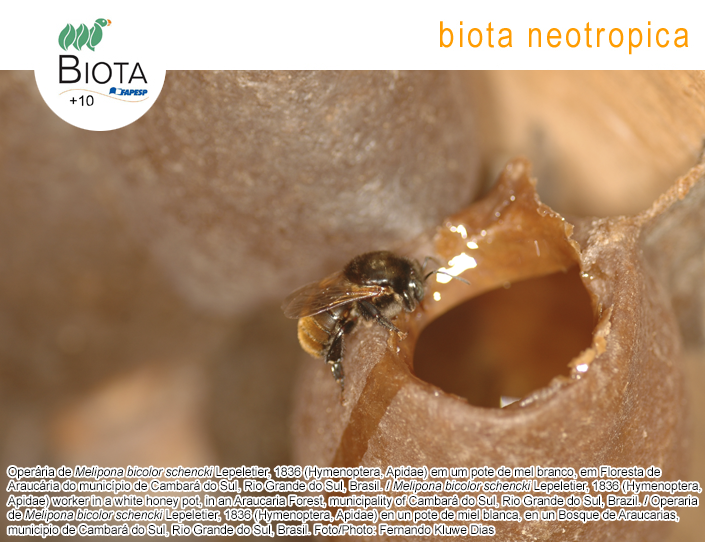 How to Cite
Witter, S., Lopes, L. A., Silva, C. I., Lisboa, B. B., Imperatriz-Fonseca, V. L., Blochtein, B., & Mondin, C. A. (2021). Geographical origin of white honey produced by stingless bees in the Araucaria Forest in Southern Brazil. Biota Neotropica, 21(1). Retrieved from https://www.biotaneotropica.org.br/BN/article/view/1789