Elasmobranchs caught by artisanal fishing in the south cost of Parana State and north cost of Santa Catarina State, Brazil
Keywords:
rays, sharks, skates, Chondrichthyes, reproductive biology
Abstract
This study was done in the South coast of Parana State and North coast of Santa Catarina State, Brazil, in two artisanal fishermen communities. Between July, 2001 and March, 2003 the fishing activities were observed aiming to: report the elasmobranchs caught species; report which species are commercialized; observe the seasonal occurrence of the species in the landings; estimate the frequency of capture by different fishing gears; and infer about the reproductive biology of the species. During the studied period were captured: Carcharhinus falciformis, Galeocerdo cuvier, Rhizoprionodon lalandii, R. porosus, Sphyrna lewini, S. zygaena, Squatina guggenheim, Narcine brasiliensis, Rhinobatos percellens, Zapteryx brevirostris, Rioraja agassizii, Dasyatis americana, D. guttata, D. hipostigma, Gymnura altavela, Myliobatis goodei, Rhinoptera bonasus and R. brasiliensis. It was observed that all sharks and only two ray species (R. percellens and Z. brevirostris) are commercialized. In the landings, elasmobranchs were more frequent during winter and spring. Most catches were done by gillnets, while just a few captures were done by shrimp trawls. The data indicated that the studied area is used by G. cuvier, R. lalandii, R. porosus, S. lewini, N. brasiliensis and R. agassizii to give birth; by all species for growing; and during the gestation of R. percellens and Z. brevirostris. It is suggested that actions aiming to protect the species must be taken, without harming and conflicts for the fishermen communities.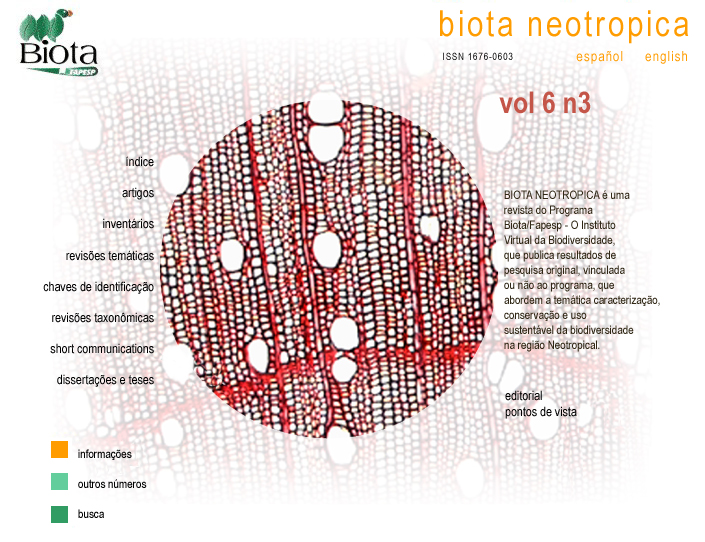 How to Cite
Costa, L., & Chaves, P. de T. da C. (2006). Elasmobranchs caught by artisanal fishing in the south cost of Parana State and north cost of Santa Catarina State, Brazil. Biota Neotropica, 6(3). Retrieved from https://www.biotaneotropica.org.br/BN/article/view/235