Importance of allochthonous resources in the diet ofAstyanax aff. fasciatus (Osteichthyes: Characidae) in streams: a longitudinal approach
Keywords:
Fish, feeding resources, terrestrial subsidies, Pirapó River, Paraná River
Abstract
The aim of this investigation was to respond the following question: is the consumption of allochthonous resources by Astyanax aff.fasciatus influenced by the longitudinal gradient in streams? To respond this question we sampled fish in the headwater, middle and mouth stretches of four streams (Upper Paraná River basin). Samplings were carried out from July 2007 to June 2008 using electrical fishing. Fish were identified, measured and their stomach contents identified and quantified. Spatial variations (among longitudinal stretches) in the diet were summarized using a principal coordinate analysis (PCoA). Spatial differences in the diet were tested with a multiresponse permutation procedure (MRPP). Allochthonous resources had the highest percentage of the A. aff.fasciatus diet in all stretches; however, the increased importance of autochthonous resources in the fish diet in the stream mouths made these stretches to differ significantly from the middle and headwater ones. The ordination analysis separated the fish diet sampled in the stream mouth from the diet of most fish samples in the headwater and middle stretches. The results highlight the importance of allochthonous resources, mainly insects, in the diet of A. aff. fasciatus. However, the diet was affected by longitudinal gradient and followed the pattern described for these ecosystems, where fish depend basically of allochthonous material in the headwaters and the importance of these resources decrease along the longitudinal gradient.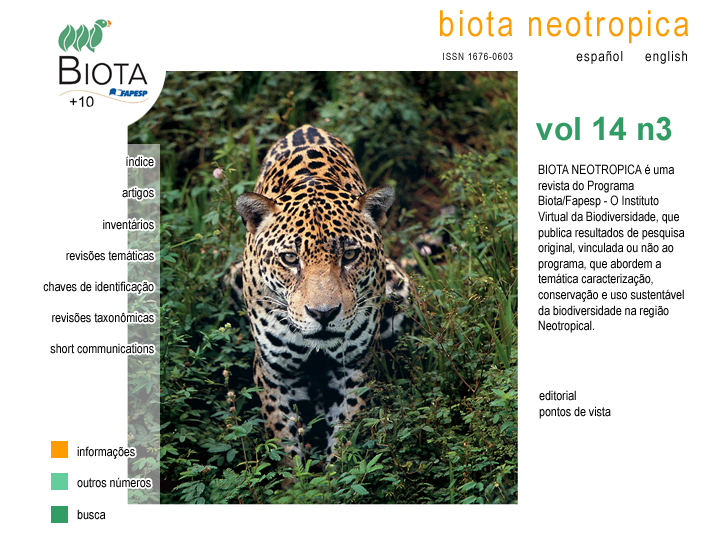 How to Cite
Silva, M. R., Fugi, R., Carniatto, N., & Ganassin, M. J. M. (2014). Importance of allochthonous resources in the diet ofAstyanax aff. fasciatus (Osteichthyes: Characidae) in streams: a longitudinal approach. Biota Neotropica, 14(3). Retrieved from //www.biotaneotropica.org.br/BN/article/view/1320