The coexistence of endemic species of Astyanax(Teleostei: Characidae) is propitiated by ecomorphological and trophic variations
Keywords:
fish, resource partitioning, ecomorphological divergence, Iguaçu River, Segredo reservoir
Abstract
The aim of the present study was to evaluate factors that may favor the coexistence of three endemic species of Astyanax (Astyanax bifasciatus,Astyanax minor and Astyanax gymnodontus) in Segredo Reservoir (Iguaçu River, Paraná State, Brazil), and to test the hypothesis that these species share food resources, being the dietary variations related to morphological characteristics. Fish were collected at three samplings sites in 1993 and 1994, during the first year after the filling phase of the reservoir. The diet was assessed using stomach content analysis and ecomorphology by ecomorphological indices. Diet and ecomorphology data were ordinated by multivariate techniques (DCA and PCA, respectively), aiming to characterize trophic guilds and identify ecomorphological patterns. A MRPP was performed to check differences between diet and morphology of species. Trophic and ecomorphological patterns were recorded among theAstyanax species, and significant differences were found for both aspects. In this way, our results corroborate the presupposed hypothesis. Therefore, the trophic and ecomorphological segregation between Astyanax species from Segredo Reservoir can contribute to reduce the competition, favoring thus their coexistence.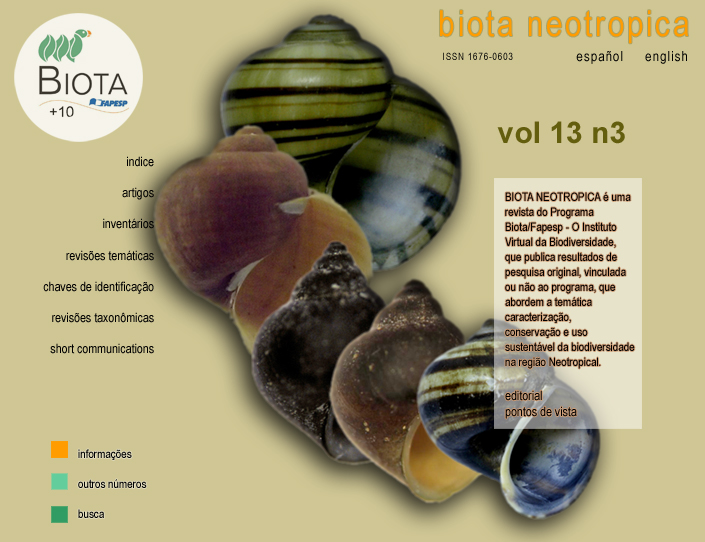 How to Cite
Mise, F. T., Fugi, R., Pagotto, J. P. A., & Goulart, E. (2013). The coexistence of endemic species of Astyanax(Teleostei: Characidae) is propitiated by ecomorphological and trophic variations. Biota Neotropica, 13(3). Retrieved from //www.biotaneotropica.org.br/BN/article/view/1285