Diversity and distribution of mollusks along the Contas River in a tropical semiarid region (Caatinga), Northeastern Brazil
Keywords:
Neotropical region, Atlantic Forest, intermittent streams, invasive mollusks, Bahia
Abstract
An inventory of macroinvertebrates conducted in the Contas River basin in Northeastern Brazil found 13 species of freshwater mollusks. Most of the community was represented by pulmonate gastropods, including Physa acuta, Drepanotrema anatinum, D. cimex, D. lucidum, Biomphalaria straminea?, Gundlachia radiata?, G. ticaga and Hebetancylus moricandi; the prosobranchs Pomacea archimedis?, Melanoides tuberculata and Littoridina sp. were also found. Bivalves were less diversified, represented only by Pisidium pulchellum? and Eupera simoni?. The taxonomic composition and the small size of many species reflect the intermittent condition of the basin. Additionally, the occurrence of shells of five terrestrial species (Helicina angulata, Gastrocopta pellucida hordeacella?, Beckianum beckianum, Succinea sp. and Systrophiidae gen. et sp. indet.) in the rivers reflects the occasional heavy rainfalls and floods in the region. The invasive gastropod M. tuberculata was the most abundant and widely distributed species. All 13 species were found in the lower course, in the Atlantic Forest region, and most, but not all, were recorded in the upper course, in the Caatinga region. The distribution and the occurrence of the bivalve species exclusively in the Atlantic Forest region indicate that the locally higher annual precipitation provides favorable conditions for the survival of these mollusks, such as a more stable hydroperiod.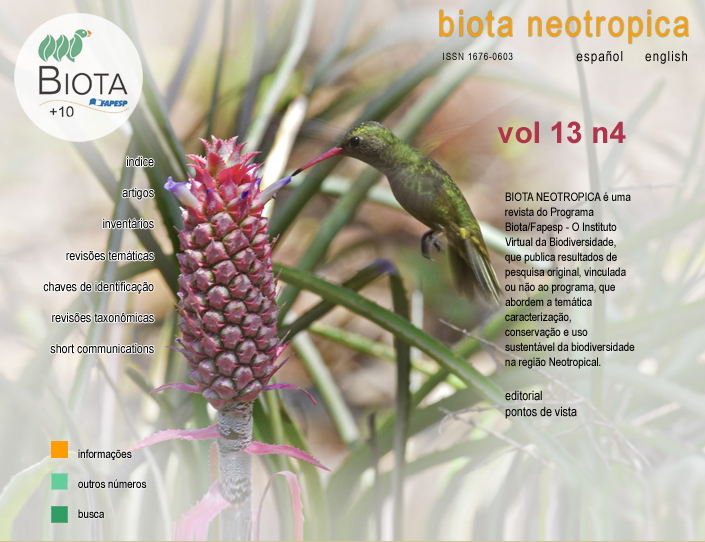 How to Cite
Kotzian, C. B., & Amaral, A. M. B. do. (2013). Diversity and distribution of mollusks along the Contas River in a tropical semiarid region (Caatinga), Northeastern Brazil. Biota Neotropica, 13(4). Retrieved from //www.biotaneotropica.org.br/BN/article/view/1226