Mammals of the campus of the Universidade Federal de Santa Maria, Rio Grande do Sul, Brazil
Keywords:
conservation, inventory, Lontra longicaudis, mammals, Pampa
Abstract
The study was conducted in the Campus of the Universidade Federal de Santa Maria (UFSM), which is located in the Central Depression of Rio Grande do Sul State, in the Pampa biome. Here, a mammal list is presented and spatial occupation and conservation strategies of local mammals are discussed. Between November 2001 and October 2002, 26 native species and two exotic species of mammals (Lepus europaeus and Mus musculus) were recorded, representing 14 families. Most recorded species presents wide distribution, is likely associated to open environments and is tolerant to human disturbances. However, we also recorded three species that are considered rare or threatened in the State of Rio Grande do Sul (Lontra longicaudis, Monodelphis dimidiata and Nyctinomops laticaudatus), for which conservation strategies are recommended. The low species richness recorded in the Campus can be related to the strong pressure of human disturbances, to the small extension of the studied area or to historical factors, as the studied area is originally a grassland (Pampa), a type of environment containing a lower mammalian diversity than native forests.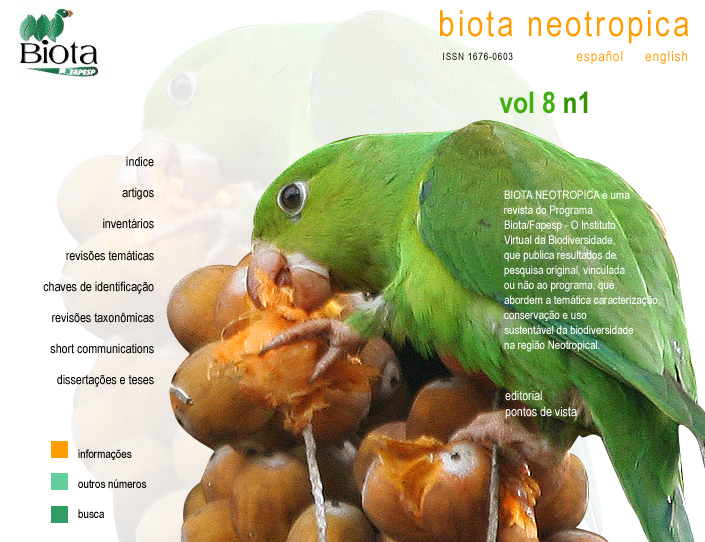 How to Cite
Santos, T. G. dos, Spies, M. R., Kopp, K., Trevisan, R., & Cechin, S. Z. (2008). Mammals of the campus of the Universidade Federal de Santa Maria, Rio Grande do Sul, Brazil. Biota Neotropica, 8(1). Retrieved from //www.biotaneotropica.org.br/BN/article/view/372