Ácaros plantícolas (Acari) da "Estação Ecológica do Noroeste Paulista", Estado de São Paulo, Brasil
Keywords:
Distribution, biodiversity, mites, Neotropics, taxonomy
Abstract
This study was conducted in the "Estação Ecológica do Noroeste Paulista", located in the region of São José do Rio Preto, State of São Paulo, Brazil, to determine plant inhabiting mite species in patches of native forest. Eighty three mite species belonging to 48 genera in 20 families were collected on more than 60 plant species. Thirty eight mite species were nominally identified. The most frequent were Tetranychus ludeni (Zacher, 1913) (Tetranychidae) and Iphiseiodes zuluagai (Denmarkyv & Muma, 1972) (Phytoseiidae), collected on 15 and 14 plants species, respectively. The largest diversity was observed on Piper sp. (Piperaceae) (21 mite species), Luehea speciosa Willd. (Tiliaceae (17), Alchornea glandulosa Poepp. & Endl. (Euphorbiaceae) (16), Bauhinia rufa (Bong.) Steud (Caesalpinaceae) (14) e Olyra sp. (Poaceae)(12).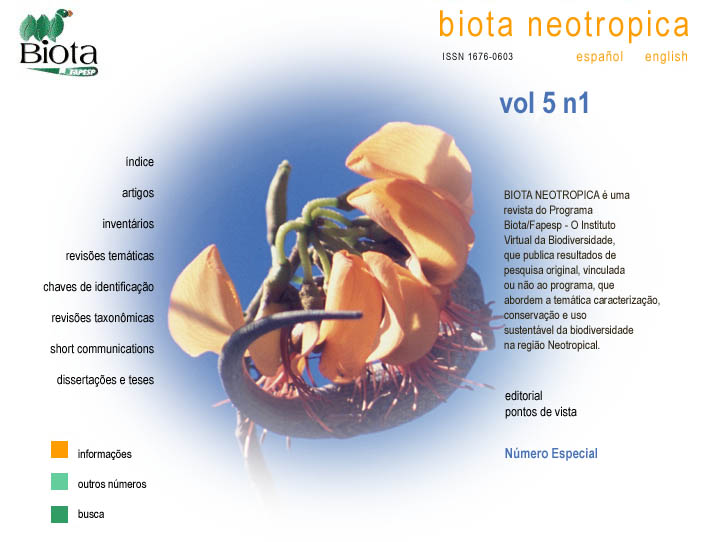 How to Cite
Feres, R. J. F., Lofego, A. C., & Oliveira, A. R. (2005). Ácaros plantícolas (Acari) da "Estação Ecológica do Noroeste Paulista", Estado de São Paulo, Brasil. Biota Neotropica, 5(1). Retrieved from //www.biotaneotropica.org.br/BN/article/view/95