Ecological patterns of the mite community on euphorbiaceous plants from a Semidecidual forest remnant in the State of São Paulo
Keywords:
Acari, diversity, Euphorbiaceae, integrated pest management, seasonality
Abstract
The diversity and seasonality of mite community on three indigenous euphorbiaceous plants from a Semidecidual forest remnant were studied by means of monthly samplings performed from May 2003 to April 2004. Diversity, dominance and equitability indexes were applied in order to verify community ecological patterns, and the Pearson correlation coefficient was used to relate mite abundance with the rainfall. About 11,515 mites belonging to 111 species of 73 genera in 25 families were recorded. Among these species, 44% of them were generalists, while 21 and 35% are phytophagous and predatory, respectively. The phytophagous mites were the most abundant, performing 45.7% of mites collected, followed by the predatory and generalist species, which represented 40.5 and 13.7% of material sampled, respectively. The Phytoseiidae family showed the highest species richness (23), followed by Tarsonemidae (18) and Tydeidae (16). The three euphorbiaceous plants studied showed great species diversity, as the results of indexes were higher than 50% of theoretical maximum diversity. The species-abundance patterns determined for mite community was equally represented by geometric and log series models. Out of three plant species studied, only Acalypha diversifolia showed potential usage in Integrated Pest Management programs.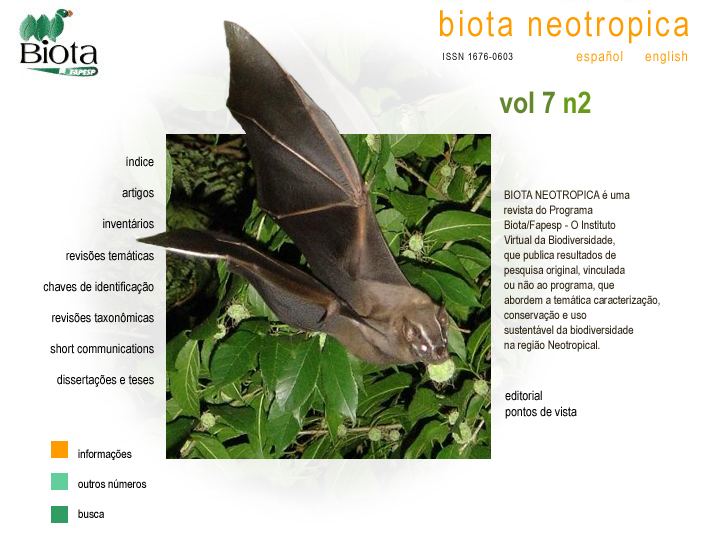 How to Cite
Feres, R. J. F., Buosi, R., Daud, R. D., & Demite, P. R. (2007). Ecological patterns of the mite community on euphorbiaceous plants from a Semidecidual forest remnant in the State of São Paulo. Biota Neotropica, 7(2). Retrieved from //www.biotaneotropica.org.br/BN/article/view/298