Anurans of the sandy coastal plains of the Lagamar Paulista, state of São Paulo, Brazil
Keywords:
amphibia, anuran community, continental islands, lagamar, Atlantic Rainforest
Abstract
Insular habitats are considered ideal for biogeographic studies, as they represent almost closed habitats with known formation timelines. Although São Paulo state in Brazil has a large number of continental and oceanic islands, few studies have examined the composition of the fauna in each locality. These studies are crucial to determine the community structure and to make biogeographic and phylogenetic inferences. From February 2007 to January 2009, we surveyed the anuran community of sandy coastal plains in four municipalities of the Lagamar Paulista: Cananéia, Ilha Comprida, Iguape and Pariquera-Açu, in the state of São Paulo, Brazil. This region is located in the Cananéia-Iguape estuary complex, comprising three continental islands: Ilha de Cananéia, Ilha Comprida, and Ilha do Cardoso, and the continental portions adjacent to these islands in the municipalities of Iguape and Pariquera-Açu. Through the use of pitfall traps and active search, we registered a total of 32 anuran species: 17 in Ilha Comprida, 21 in Ilha de Cananéia, 26 in Ilha do Cardoso, 27 in Iguape, and 23 in Pariquera-Açu. The analysis of the richness indices of the study sites revealed higher values in continental areas. This result is very common in comparative studies between islands and continents. This may be caused by an island effect and may reveal the historical process of island formation in the Lagamar. Our findings provide important information for identifying patterns of amphibian distribution in insular areas of the São Paulo coast, and for examining how events of marine transgression and regression have affected the local amphibian communities.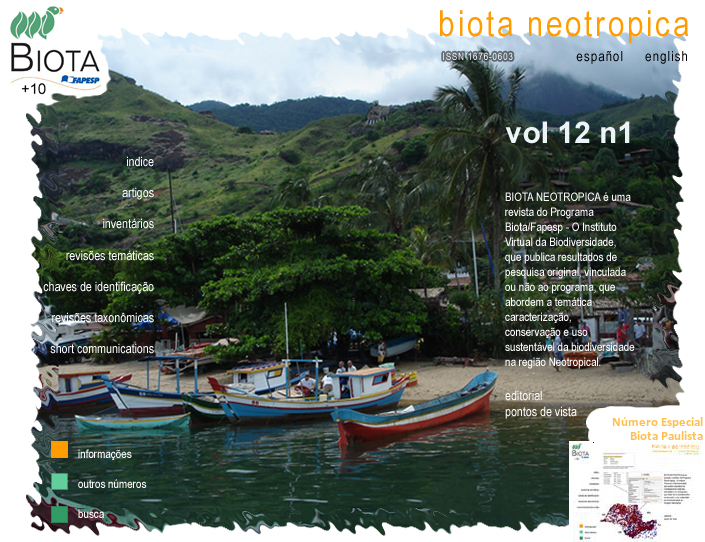 How to Cite
Zina, J., Prado, C. P. de A., Brasileiro, C. A., & Haddad, C. F. B. (2012). Anurans of the sandy coastal plains of the Lagamar Paulista, state of São Paulo, Brazil. Biota Neotropica, 12(1). Retrieved from //www.biotaneotropica.org.br/BN/article/view/921