Chave de identificação: anfíbios anuros da vertente de Jundiaí da Serra do Japi, Estado de São Paulo
Keywords:
Identification key, taxonomy, São Paulo, Atlantic Forest, amphibians, anurans
Abstract
The Área de Proteção Ambiental Jundiaí is an important environmental reserve located at a mountain range between two metropolis of São Paulo state: São Paulo and Campinas. It is an area of great interest for scientific research and conservation, being a region of transition between two ecosystems (Atlantic Ombrophilous Forest and Atlantic Semideciduous Seasonal Forest), and sheltering a great species diversity. Although studied since the middle 80's there is no identification key available for the anuran species of the area until this moment. Thirty one anuran species from six different families have already been recorded at the side of the mountain range directed towards Jundiaí. We present here an illustrated dichotomous identification key for anurans of this area.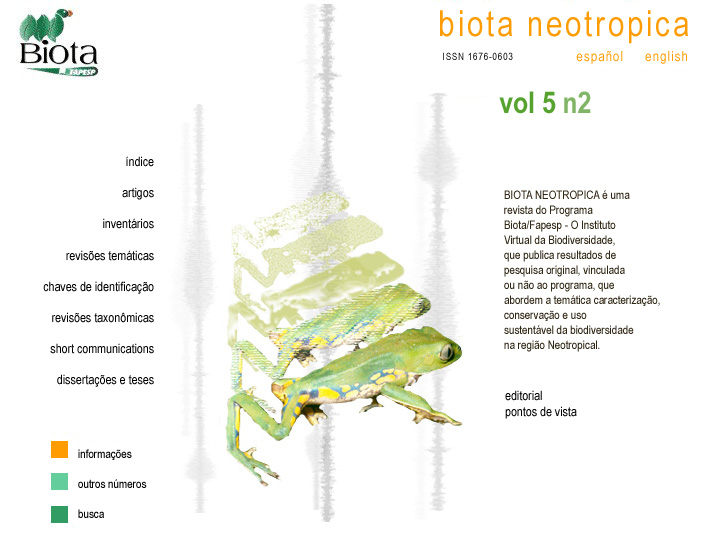 How to Cite
Ribeiro, R. da S., Egito, G. T. B. T. do, & Haddad, C. F. B. (2005). Chave de identificação: anfíbios anuros da vertente de Jundiaí da Serra do Japi, Estado de São Paulo. Biota Neotropica, 5(2). Retrieved from //www.biotaneotropica.org.br/BN/article/view/158
Section
Identification Keys