Present knowledge on Cladocera (Crustacea, Branchiopoda) diversity of freshwaters in Minas Gerais State
Keywords:
biodiversity, cladocera richness, Chydoridae, tropical cladocerans, freshwater diversity, zooplankton
Abstract
The aim of this work was to present the updated checklist of Cladocera species recorded in the freshwaters of Minas Gerais state that could be used as a baseline for the ongoing or future studies in the scope of the recently initiated "Biota Minas" Program. The checklist is based on extensive literature review including recent taxonomical reviews, particularly for some genera of Chydoridae. The compiled data indicated the occurrence of 94 species of Cladocera considering 88 water bodies in Minas Gerais State. They include species from 35 genera belonging to seven among eight cladoceran families with occurrence in the freshwaters of the Neotropical region. Considering the Cladocera group as a whole, the family Chydoridae (Anomopoda Order) had the highest species richness with a total of 47 species recorded, thus corresponding to 50% of Cladocera total richness in Minas Gerais State. Other families in decreasing order of richness were: Daphnidae with 16 species, Macrothricidae with 9, Bosminidae and Sididae with 8 species each, Moinidae and Ilyocryptidae with 3 species each. In relation to the occurrence of Cladocera in the different river basins of Minas Gerais state the data obtained encompassed registers from 6 main basins. Nevertheless, there were no records of Cladocera species for Mucuri and Paraíba do Sul river basins. It was also observed that the highest diversity of species in some river basins were probably a consequence of a higher number of studies performed at Rio Doce basin, with 67 species recorded and Rio Grande basin with 65 species. On the other hand the low number of species recorded in River Pardo basin (9 species) and River Jequitinhonha (3 species) or no record as for River Mucuri and River Paraíba do Sul basins resulted from few or none studies at all. It was concluded that there is a need to extend the coverage for other basins, particularly those located in the North and Northeast of Minas Gerais State.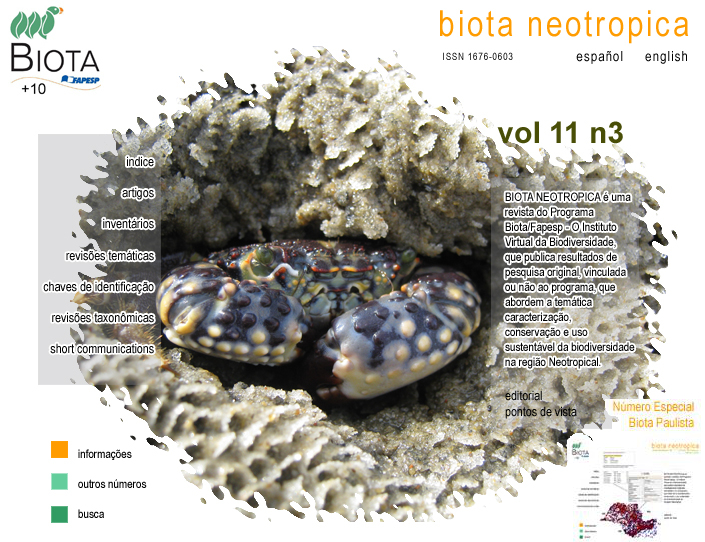 How to Cite
Santos-Wisniewski, M. J. dos, Matsumura-Tundisi, T., Negreiros, N. F., Silva, L. C. da, Santos, R. M. dos, & Rocha, O. (2011). Present knowledge on Cladocera (Crustacea, Branchiopoda) diversity of freshwaters in Minas Gerais State. Biota Neotropica, 11(3). Retrieved from //www.biotaneotropica.org.br/BN/article/view/855