Life cycle of Scapholeberis armata freyi Dumont & Pensaert, 1983 (Cladocera, Daphnidae)
Keywords:
Anomopoda, zooplankton, longevity, fecundity, growth
Abstract
Knowledge of the life cycle of zooplankton species can provide information for a better understanding of the role of each species in the community and basic data for secondary production investigations. In this study, some life-cycle traits were measured for Scapholeberis armata freyi Dumont & Pensaert, 1983 (Cladocera, Daphnidae), maintained under controlled conditions in laboratory cultures. Experiments were carried out in incubators at a temperature of 23.0 ºC, photoperiod of 12 hours light/dark, and food supply (algal suspension of the chlorophycean Pseudokirchneriela subcapitata at 10(5) cells.mL-1 and mixed suspension of yeast, and fish ration added per organism, at equal proportions) that were kept constant. Observations were made once or twice a day to record individual growth, age and size of primipara, as well as fecundity and longevity. S. armata freyi achieved a maximum size of 827 µm, while the primiparous instar measured 542 µm on average, at an age of 5.86 days. The mean fecundity was 8 eggs.female-1 and the mean of total number of eggs produced by a female was 47.58. Embryonic development time was 1.9 days and the maximum longevity found was 31 days. In this study, the life cycle parameters of S. armata freyi presented are close to those found in other species of Daphnidae, under the same culture conditions of temperature and photoperiod. However, the longevity was greater than other species that received algae as food only. The quality and quantity of food are factors that control secondary production in aquatic ecosystems and an increase of food availability increases longevity and egg production. Thus the greater longevity and egg production observed for S. armata freyi can influence its secondary production.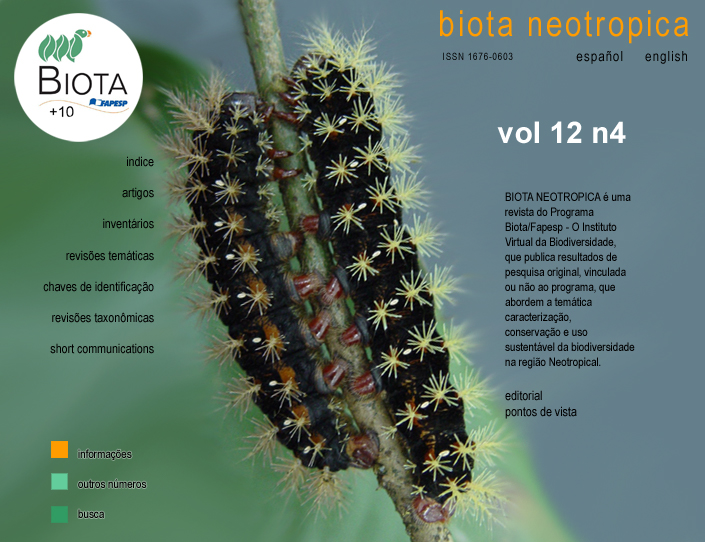 How to Cite
Castilho, M. C. de A., Wisniewski, C., & Santos-Wisniewski, M. J. dos. (2012). Life cycle of Scapholeberis armata freyi Dumont & Pensaert, 1983 (Cladocera, Daphnidae). Biota Neotropica, 12(4). Retrieved from https://www.biotaneotropica.org.br/BN/article/view/1024