Species richness and geographic distribution of the genera Chydorus and Pseudochydorus (Cladocera, Chydoridae) in São Paulo State
Keywords:
Anomopoda, Chydoridae, Littoral region, biodiversity
Abstract
The Chydorus and Pseudochydorus genera are widely distributed around the world. Some species of Chydorus are among the commonest anomopods and Pseudochydorus globosus, the only species of the genus, is believed cosmopolitan. This study was part of the project " Zooplanktonic biodiversity and state of degradation of continental water ecosystems in São Paulo State" , itself a part of the FAPESP/BIOTA Program - The Virtual Institute of Biodiversity (www.biotasp.org.br), the aim being to make an inventory and analyze the distribution of species of the genera Chydorus and Pseudochydorus in São Paulo State, Brazil. In total, 373 samples were collected from 223 water bodies in the Water Resources Management Units of São Paulo State, between 9/9/1999 and 8/28/2002. The sampled sites varied from small streams, rivers, ponds, lakes up to big reservoirs. Six species of the genus Chydorus and one of the genus Pseudochydorus were recorded. The most common and widely distributed species were Chydorus eurynotus and Chydorus pubescens. The species Chydorus parvireticulatus occurred only in one Water Resources Management Unit of the state, and constituted the first recorded of this species in São Paulo State.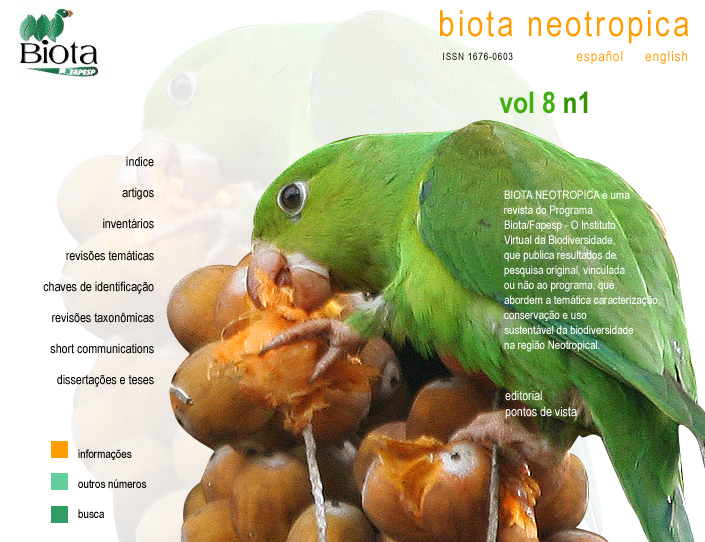 How to Cite
Santos-Wisniewski, M. J., Rocha, O., Guntzel, A. M., & Matsumura-Tundisi, T. (2008). Species richness and geographic distribution of the genera Chydorus and Pseudochydorus (Cladocera, Chydoridae) in São Paulo State. Biota Neotropica, 8(1). Retrieved from //www.biotaneotropica.org.br/BN/article/view/388